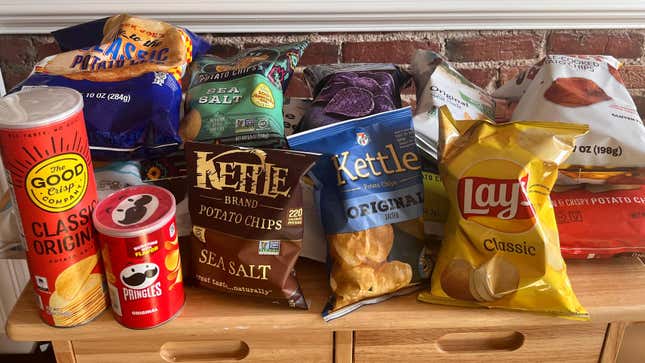 The world feels like it's going to shit. So my response, of course, was to grab every bag of potato chips I could find this weekend and rank them. Important work in trying times, I know.

To start, I needed to make some arbitrary rules. I only tried plain, salted potato chips. I decided not to include crinkle-cut chips, but I did include Pringle-style crisps, kettle-cooked chips, and classic chips. Finally, I didn't differentiate between reduced fat or organic options, nor between the various oils they were cooked in.
Ranking potato chips is not solo work. I grabbed some friends and we munched and argued, considering the mouthfeel and the brine, the earthiness and the crunch-to-flake ratio. After this long and arduous task, I rated the chips based on three factors:
The flavor (including saltiness, potato taste, and oil flavor)
The textural experience (the crunch, heft, thickness, and greasiness)
The nostalgia factor (how did it make me feel, and what did it evoke?)
Here are my findings, ranked worst to best.