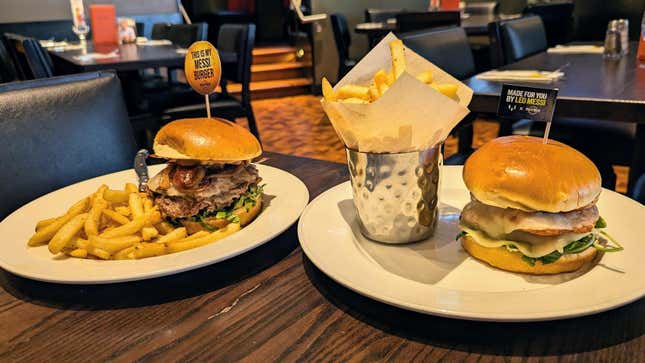 When's the last time you've been to, or actively thought of, the Hard Rock Cafe? I jokingly offered up the Chicago location as a post-work dinner suggestion some months ago, and to my surprise, everyone thought it was a fun idea, since none of us could recall the last time we'd been to one.
How To Dispose Of Cooking Grease The Easy Way After Frying
We ended up having a great time. Our server was cheerful, everyone liked their food and drinks, and it was fun identifying the rock memorabilia framed on the wall. Hard Rock, it turns out, is a great place to dine out as a group. Even so, when I read a press release heralding the announcement of a new Hard Rock chicken sandwich designed by an Argentinian soccer player, I was a little confused.
Lionel Messi is, of course, a global superstar, but soccer is still gaining steam in the United States, and it's still not as popular as baseball, basketball, or football just yet. Not to mention that an athlete isn't a musician, which is the type of celebrity you'd think the restaurant would team up with. Whatever the reason for the brand partnership, Hard Rock and Messi have been collaborating since 2021.
The themed chain restaurant honors Messi by lending the newest menu item, the Messi Chicken Sandwich, a decidedly international flair. This seems more forward-looking than say, Chili's newest menu special, the Double Old Timer, which is simply a double cheeseburger with lettuce, tomato, pickles, red onion, and mustard.
A Messi Burger has already been on the Hard Rock menu for some time, so in order to evaluate the Messi Chicken Sandwich, it felt only right to compare it against the other offering.
How does the Messi Chicken Sandwich taste?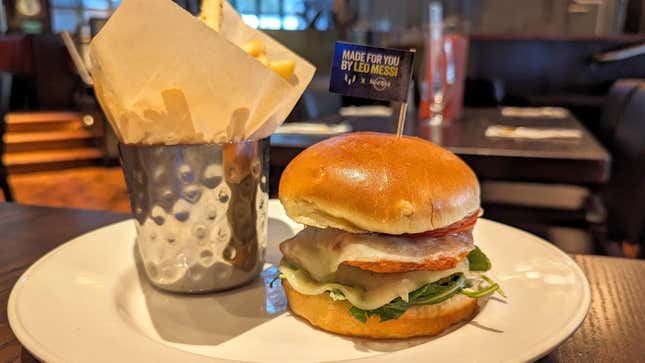 Messi's new Messi Chicken Sandwich is inspired by the Argentinian (and global) staple, milanesa. You probably know milanesa by different names, including schnitzel, katsu, or just "a plain-ol' fried chicken cutlet."
Messi's Chicken Sandwich is a double stack of milanesa-style chicken breast, provolone, herb aioli, tomatoes, and arugula. White meat chicken patties can be somewhat dry, but this thing comes loaded with plenty of herb mayo to balance out the poultry, and the cheese functions as a sort of glue keeping the whole thing together.
One unexpected highlight is the use of arugula. Iceberg lettuce is one thing, but arugula is interesting in that it minimizes excess moisture and retains its peppery flavor whether it's served cold or warmed (no weirdly hot iceberg here), and it adds an herbaceous finisher to every bite. It wilts a little under a freshly fried chicken cutlet, but still packs flavor. Between the two sandwiches, Takeout writer Angela L. Pagán said she preferred the chicken.
If someone had handed me the sandwich and hadn't told me about the Messi attachment, I don't think I'd have clocked this thing as an attempt at global cuisine. It just reads as a perfectly decent chicken sandwich. But Messi's name might be the way to draw customers to it on the menu.
How does the Messi Burger taste?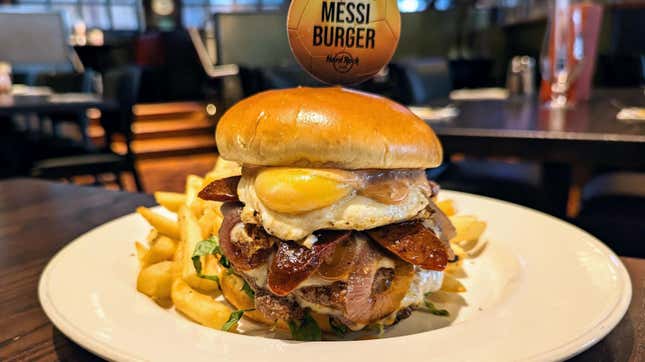 If you're in a particularly carnivorous mood, the Messi Burger is a glorious stack of two beef patties, provolone, sliced chorizo (the cured, dried kind), caramelized red onions, and a spicy signature mayo-based sauce. A fried egg is optional at an extra charge. The burger launched in 2022 and has been on the Hard Rock menu ever since.

The beef patties are fine; they're the usual juicy ground beef prepped by a chain restaurant. The funky and chewy chorizo, however, makes the whole burger taste surprisingly unique. It adds a different type of meaty texture that's distinct from bacon, and frankly, it's not something you expect the Hard Rock Cafe to offer.
And then there's the fried egg. It's optional, so we tried one burger with egg and one without. Adding the egg takes a perfectly decent burger and catapults it over the top. The addition of eggs to burgers can be divisive, especially among burger purists; I generally avoid it myself. But in this case, I'd say it's not only delicious but nonnegotiable.
Maybe it's because I've gone years without adding an egg to my burgers, but I'm prepared to say that the Messi Burger plus egg might be the most memorable burger I've had in a long time. And yes, it is messy. (I've been waiting to whip that one out.)
It's kind of funny, thinking this actively about the Hard Rock Cafe. We Chicago locals tend to write it off as a tourist trap—a perception the general manager told us that Hard Rock is trying to push back on. But even if the restaurant can't pull off a rehabilitation of its image, is there something wrong with being a place that caters to out-of-towners? Might as well play to your strengths. The Hard Rock stays in character, hosting live rock shows on the weekends.
Hard Rock Cafe is an international restaurant chain that captures a brand of rock and roll Americana that is still kitschy, shiny, and bright, if you're willing to embrace it. In case you need convincing beyond the memorabilia and drum kits, perhaps a pair of good messy Messi soccer sandwiches might be enough to lure you in.