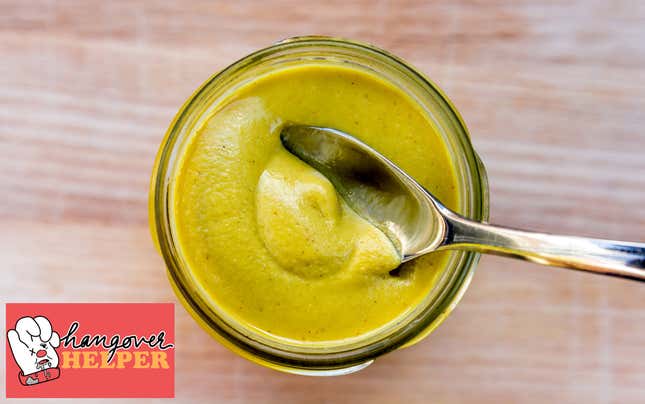 Hangover Helper is The Takeout's weekly feature on how to survive the booze flu.

Happy holidays, everyone! It's time to get drunk with your coworkers, your friends, your family, your book club—does anyone not have a holiday party these days? As you sip spiced whiskey cocktails and too much red wine, we want to make sure you can haul your busted ass into work the next day.
How To Dispose Of Cooking Grease The Easy Way After Frying
Last week, The Hideout crew shared their unique hangover remedy (Flinstones push-ups, eh?) and before that we heard from Nandini Khaund on her bubbles and spicy soup solution.
---
They say opening a restaurant is a risky move, but it's not as risky as working in media. Former journalist Paul Biasco went from covering hot new restaurants to managing one of the buzziest restaurants in Chicago. Biasco's Quiote, which he opened earlier this year with business partner and chef Dan Salls, serves up Mexico City-inspired cuisine and recently snagged a spot on Michelin's Bib Gourmand list for 2018. Aside from the restaurant, Biasco and crew also run basement bar Todos Santos, a mezcal-focused cocktail spot that's become a neighborhood hit.
Today, he shares his secrets for handling the morning after a long night of mezcal-sipping—including a sinus-clearing, life-affirming mustard recipe.
The Takeout: When you're really hungover, what is the one thing that helps you get out of bed and get moving?

Paul Biasco: I have two combos that are dependent on the severity of the hangover. The first, for a medium-bad hangover, is to get on my bike and force myself to ride to Sultan's Market in Wicker Park for their lentil soup and falafel sandwich accompanied by a huge coconut juice, can of coke and water.
The second combo for the very bad hangover is to head to the much closer Fat Rice with my partner at Quiote Dan Salls and eat pork chop sandwiches loaded with their homemade hot mustard. Fat Rice's Adrienne Lo says bottles get stolen due to it being the best mustard on earth.*
*scroll down for recipe
TT: Why do you think it works so well?
PB: The Sultan's move works well because the bike ride gets my system going and once I add the chili sauce and start sweating, copious amounts of coca-cola, coconut juice and water hydrate just right.
The Fat Rice move relies on spice to get my head to sweat, which makes me convince myself I'm "detoxing." The pork chop is the best sandwich in the city, so I feel happy while eating it alongside Dan.
TT: What are some other hangover-busting tips you can share?
A night of drinking mezcal doesn't give that bad of hangovers. Also, chug as much water as you can right before going to bed.
TT: When are you most likely to be hungover?

When whiskey shots get mixed into a night of drinking.
TT: Tell us about the worst hangover you've ever had.
I was in a packed car driving back from a weekend in a cabin in Wisconsin with some good friends.
We stopped at a Culver's half way back and everyone got milk shakes but me. The woman who brought us our food noticed how horrid I looked and brought me a free milkshake to cheer me up. It was a very memorable moment.

---
Fat Rice's Sweet and Spicy Mustard Recipe 
Recipe courtesy of The Adventures of Fat Rice
1/4 cup mustard powder
3 Tbsp. cold water
4 tsp. Filipino cane vinegar
1 Tbsp. toasted sesame oil
2 Tbsp. soy sauce
4 tsp. sugar or honey
Whisk the mustard powder with the water in a bowl and let sit at room temperature for at least 30 minutes. Whisk the cane vinegar, sesame oil, soy sauce, and sugar together in a separate bowl until the sugar dissolves. Stir the mustard mixture into the vinegar mixture, taste, and adjust the seasoning as desired. Use immediately or store in an airtight container in the refrigerator for up to 1 month. Makes about 3/4cup of mustard.