Hangover Helper is The Takeout's weekly feature on how to survive the booze flu.
If you're a drinker, you've likely spent a morning or ten in a fetal position on your bathroom floor, deeply regretting that last shot of tequila. What's worse: the nausea or the headache? And how in the hell are you going to drag your ass to work?
As someone who gets hungover fairly easily, I've experimented with every remedy one could desperately think up: SmartWater, Gatorade, Big Macs, pizza, entire bags of Salsa Verde Doritos (for the record: delicious). Nothing worked. Until one day after hours of my groaning, my wife suggested ordering from our local Chinese place. Within minutes of nibbling half an egg roll and chasing it with a cold Diet Coke, I felt alive. The nausea was gone. I was cured.

I still stand by my egg roll/Diet Coke cure, and have become somewhat obsessed with telling others about it. If I could find my magic cure, I assumed others had cracked the hangover code as well. So, Hangover Helper was born.
Each week, we'll talk to chefs, bartenders, restaurant owners and other boozers about how they battle an epic hangover. Got a secret remedy? Please share in the comments.
---
For our first edition of Hangover Helper, we spoke to Chicago's noted Spirit Guide: Nandini Khaund. Khaund, who runs the beverage program for the Chicago Athletic Association Hotel as well as its ultra-popular rooftop bar, Cindy's, is known for creating gorgeous, boozy works of art that change with the seasons.

G/O Media may get a commission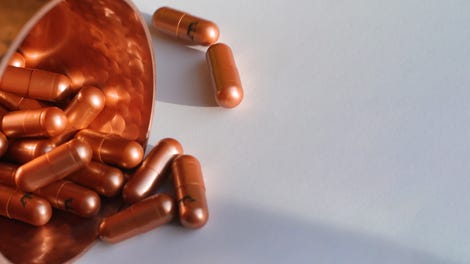 health
The Lyma Supplement
A veteran of Chicago's cocktail scene (Violet Hour, The Charleston), Khaund told The Takeout what she turns to after one-too-many pig's blood cocktails.
The Takeout: When you're really hungover, what is the one thing that helps you get out of bed and get moving?
Nandini Khaund: When I am burdened with the horrors and pain of regrets, I want a spicy bowl of ramen or tacos. And a gigantic Coca-Cola on ice. With a Topo Chico back. Give me all the aggressive bubbles.
TT: Why do you think it works so well?
NK: Hangovers are brooding, nauseous, shaky nightmares caused by alcohol (of course), plummeting blood sugar levels, and dehydration. Spicy foods make you sweat—it feels like a detox. Coca-Cola was originally created in 1886 by pharmacist John Pemberton to help wean himself off of morphine. Granted, it had cocaine in it, but the fizzy sweetness has a psychological effect that you can't deny. It makes your stomach feel better, and it really does give you back some of the sugar your blood needs to normalize. Plus: caffeine.
TT: What are some other hangover-busting tips you can share?

NK: The fancy answer I should say, given my profession, is one of our non-alcoholic concoctions that we call the Reanimator - it has fresh blueberry, ginger, activated charcoal, lime, and soda. It really works. However, my co-worker swears by Pedialyte, which is designed for dehydrated babies. Isn't that fitting? Unfortunately, it is very embarrassing to carry in public.

TT: When are you most likely to be hungover?

NK: We all have to eat no matter what! And drink water in between drinks. If I don't drink any water, the hangover is a million times more brutal.

Plug time: Follow Cindy's on Instagram here to see what seasonal concoctions she's working on this winter.