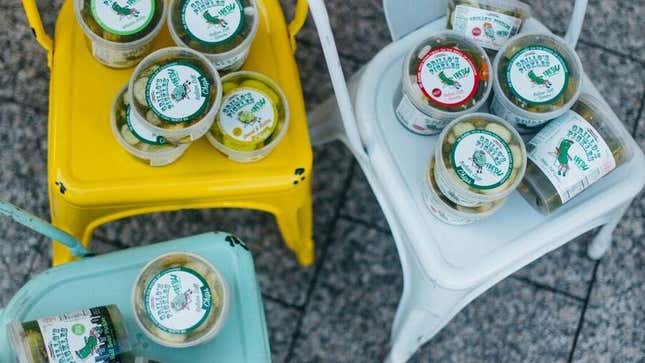 As The Takeout explored last month, Grillo's, the purveyor of fresh pickles you can find in the refrigerated section of most grocery stores (in the brand's hard-to-open container), has taken to the courts to settle several briny legal matters. As of earlier this month, one such lawsuit is settled.
How To Dispose Of Cooking Grease The Easy Way After Frying
In January, Grillo's filed a complaint that claimed Wahlburgers fresh pickles, a direct grocery store competitor to Grillo's, used a chemical preservative despite the brand's claims that its product is "all natural." The preservative was not noted on the ingredient list for Wahlburgers pickles. Grillo's discovered the additive after hiring a firm to conduct chemical testing of Wahlburgers' fresh pickle offering.
In early August, Wahlburgers and its co-defendants, which include ARKK Food Company and Patriot Pickle Inc.—the latter being Grillo's former packager—admitted that, indeed, the pickles contained a preservative that was not listed on the label.
A press release from Grillo's notes that a representative for Wahlburgers said in the new court filing that the pickles did contain sodium benzoate and that future shipments of the pickles will not include it, saying Patriot Pickle has "taken voluntary corrective action to ensure future shipments of Wahlburgers pickles will be sodium benzoate-free, thus giving Grillo's the relief it seeks."
According to the same Grillo's press release, the representative for Patriot Pickle said that any pickles that were on shelves before this "voluntary corrective action" took place are now past their "sell-by" date. In other words, any Wahlbugers pickles found on shelves moving forward should not have the preservative in them.
Grillo's said it was glad to have more "ingredient transparency" in the world as a result of this action.
"As we've said before, at Grillo's Pickles, we're committed to ingredient transparency and we continue to stand by that," said Adam Kaufman, President of Grillo's Pickles, in the press release. "It's important that our competition is honest when listing out their ingredients, and we're glad to have helped the truth come to light."
It should be noted that despite Walburgers' admission that it had previously included a preservative in its pickles, Grillo's will continue to pursue claims against Wahlburgers, ARKK Food Company, and Patriot Pickle for damages under the Lanham Act and Unfair Competition Law.

And speaking of the pickles' recipe, it continues to make its way through the courts, via a different lawsuit Grillo's filed earlier this summer, this one alleging that Grillo's former packager, Patriot Pickle, Inc. (the same one involved in the Wahlburgers matter) stole its recipe and used it to create Grillo's dupes for Whole Foods. That matter has yet to be resolved. We'll continue to follow the suit and will report further on the dill-emma as it unfolds.