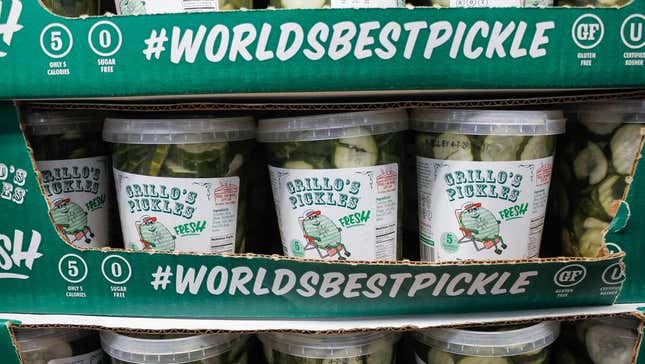 Grillo's, the Massachusetts-based pickle company that sells fresh refrigerated pickles in plastic containers so difficult to open that the company offers tutorials, is suing the company that once put the pickles in those containers, Patriot Pickles.
How To Dispose Of Cooking Grease The Easy Way After Frying
In a complaint filed with the United States District Court for the Southern District of Florida, Miami Division, Grillo's claims that Patriot Pickles, which is based in New Jersey, stole Grillo's recipe and used it to produce pickles for Whole Foods. The pickles in question are now being sold under Whole Foods' 365 label, priced roughly 30% less than Grillo's.
In a press release sent to The Takeout on Wednesday, representatives for Grillo's said the ordeal threatens to irreparably damage the company.
"The alleged use of recipes stolen from Grillo's to roll out a line of pickles nationwide at one of Grillo's biggest retailers, at a lower price point, and during the highest grossing time of year for pickle sales, threatens to cripple Grillo's business and customer base irreparably," the statement read in part. "As a result, Grillo's is asking the court for emergency injunctive relief in addition to a permanent injunction and damages."
The details of the Grillo's Pickles lawsuit
A copy of the complaint is linked here. In it, Grillo's explains that it engaged with Patriot Pickles as a co-packer after the two companies signed a mutual nondisclosure agreement in 2012. That relationship ended at Grillo's behest in 2021, but the mutual nondisclosure agreement was not terminated.
The intrigue in the complaint is in the details, or the ingredients, as it were. The complaint, which alleges that Patriot Pickles created four varieties of pickles for Whole Foods based on Grillo's recipes, illustrates that those pickles bear identical ingredient lists to Grillo's pickles. The complaint notes that Whole Foods' 365 brand previously sold refrigerated pickles prior to 2023, but those pickles were co-packed by a company called Hermann Pickles and had a totally different ingredient list.
"It was not until it began using Patriot as a co-packer that Whole Foods 365 pickles' formula and packaging became virtually identical to Grillo's pickles," the complaint says.
In addition, the complaint references chemical analysis of the products.
"Upon testing Patriot's Whole Foods 365 'Dill Pickle Spicy Spears,' 'Dill Pickle Spears,' 'Dill Pickle Whole,' and 'Dill Pickle Chips,' the resulting chromatograms from these pickles' organic acid profiles illustrate a nearly identical profile between Grillo's and Patriot's Whole Foods 365 pickles," it reads.
In a press release, Adam Kaufman, President of Grillo's Pickles, called the move by Patriot Pickles "a massive violation of trust and a disappointment."
"Patriot Pickle is trying to profit off of Grillo's 100-year-old family recipe and our trade secrets," said Kaufman. "It's a massive violation of trust and a disappointment that after nearly a decade of partnership, our former co-packer, Patriot Pickle, has violated our agreements and is producing a nearly identical line of pickles for one of our biggest retailers, threatening to permanently damage our business."
Though neither company is based in Florida, the complaint notes that the Southern District of Florida is an appropriate setting for the case because both sets of pickles are sold at Whole Foods location throughout the district. The complaint calls for a jury trial.
Past pickle lawsuits
This isn't the first time Grillo's has filed a lawsuit against a competitor, nor the first time it's entered into litigation with Patriot Pickles. Earlier this year, the company filed a complaint against Patriot Pickle Inc., ARKK Food Company, and Wahlburgers I, LLC.
That complaint names Patriot Pickles as the packager for Wahlburgers and notes that the company had access to Grillo's recipes, but the focus of the suit was that Wahlburgers falsely claimed its pickles were preservative-free when it actually contained a chemical preservative, benzoic acid. Benzoic acid was not listed as an ingredient on the pickles; it was discovered through lab testing engaged by Grillo's. According to the complaint, had the pickles not been falsely labeled as preservative-free, they wouldn't have been sold next to, nor attracted the same customers, as Grillo's.
The Wahlburgers matter is still pending in New Jersey courts.
It should be noted that the complaints, like this article up until now, are devoid of pickle puns. Indeed, the court received no references to the matter being a dill-emma, nor either company relishing their recipes, nor how much of a pickle they now find themselves in. We can all hope they're just saving that brilliance (or...dill-igence?) for the jury.