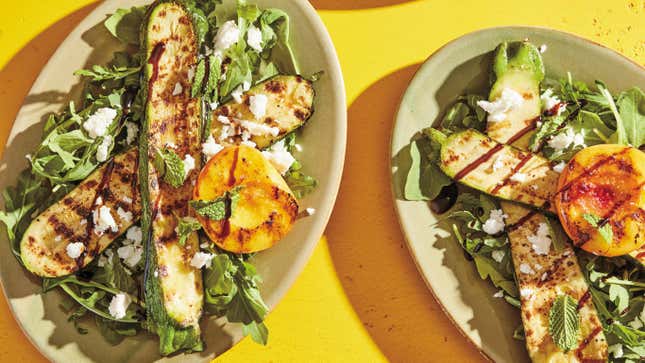 Gardeners who like to cook know the old saying: Things that grow together go together. While you aren't likely to find peach trees growing among rows of zucchini, the two harbingers of summer do hit farmers markets at the same time. That's why James Beard Award–winning cookbook author Cynthia Graubart features a recipe for grilled zucchini and peach salad in her new collection, Zucchini Love: 43 Garden-Fresh Recipes for Salads, Soups, Breads, Lasagnas, Stir-Fries, and More.
How To Dispose Of Cooking Grease The Easy Way After Frying
Since Georgia peaches are less plentiful and more expensive this year, combining peaches with zucchini will help you stretch your supply. It's also a way to enjoy a luscious combination of fruits, vegetables, and greens.
---
Grilled Zucchini and Peach Salad recipe
From Zucchini Love: 43 Garden-Fresh Recipes for Salads, Soups, Breads, Lasagnas, Stir-Fries, and More by Cynthia Graubart, Storey Publishing, 2023 (reprinted with permission)
2 medium zucchini
2 tablespoons extra-virgin olive oil
Salt and freshly ground black pepper
2 medium peaches
5 ounces arugula
1/4 cup fresh mint leaves, finely chopped
1/2 cup crumbled feta cheese

2 tablespoons balsamic reduction (see Note)
Cut each zucchini lengthwise into four slices. Brush the cut sides with the oil and season with salt and pepper. Peel, halve, and pit the peaches.
Heat the grill or a grill pan over medium-high heat. Place the zucchini slices and peach halves cut side down on the grill. Cook, in batches if necessary, until the zucchini is soft and the peaches show grill marks.
Divide the arugula among four plates. Place two slices of zucchini crossed in the center on top of each salad. Place a peach half, grilled side up, on each. Sprinkle with mint and feta. Drizzle with balsamic reduction and serve.
Recipe notes
If you don't have an outdoor grill, you can make this inside on a grill pan.
Watermelon can substitute for peaches. Use slices that are at least one to two inches thick.

If you are unable to find prepared balsamic reduction in your grocery store or specialty food market, you can make your own. Heat 1/2 cup balsamic vinegar in a small pan over low heat and cook until reduced to 2 tablespoons.