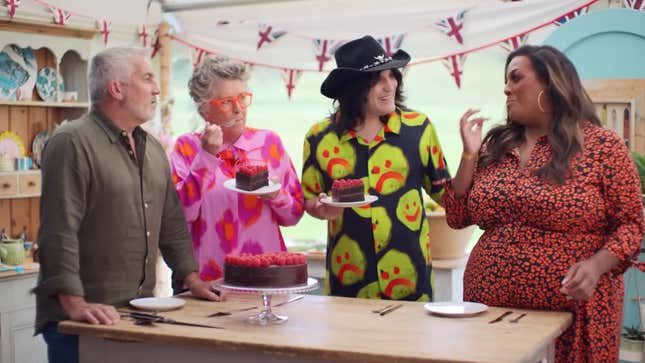 The Great British Baking Show is comfort television at its best. Well, most of the time. The friendly baking competition is usually jovial and warmhearted, but when it comes to the show's internationally themed competition weeks, its track record isn't so good. Take, for example, last year's disastrous Mexican Week, which fell flat on its face.
How To Dispose Of Cooking Grease The Easy Way After Frying
The show will debut its 14th season this fall on Channel 4 in the UK and on Netflix in the United States, with a handful of changes, including a new host and a tweak to the format that has us feeling relieved.
What changes are coming to this season of The Great British Baking Show?
First of all, a new host has joined the crew: TV presenter Alison Hammond is making her debut, replacing former host Matt Lucas (whom we had strong opinions about). Fun fact: Hammond appeared on the third series of the UK version of Big Brother and was the second housemate to be voted out that season.
But it's the changes to the competition itself that we're most interested in. In a recent interview with The Guardian, show producer Kieran Smith let slip the welcome revelation that there will be no internationally themed weeks in the competition this season. That means no costumes, no bad wordplay, no peeling avocados like potatoes, and no occasion to cringe at broad mischaracterizations of entire cultures or cuisines.
"We didn't want to offend anyone but the world has changed and the joke fell flat," Smith said about last year's poorly received Mexican Week. "We're not doing any national themes this year."
Calling it a "joke" sounds like a bit of a deflection, if you ask me, but at least we're reverting back to familiar territory. Edginess was never what drew viewers to the show anyway.
"We're doing all the regular weeks: cakes, biscuits, bread, patisserie, chocolate, plus party cakes is a new theme," Smith told The Guardian. "No spoilers, but it features challenges I think viewers will love."
The show is always full of baking surprises and disasters that are entertaining enough on their own, so I think removing any room for cultural missteps is probably a good thing. While I'm not excited for fall to show up just yet, at least I know there'll be something to watch when the cooler weather sets in—sans sombreros this time.