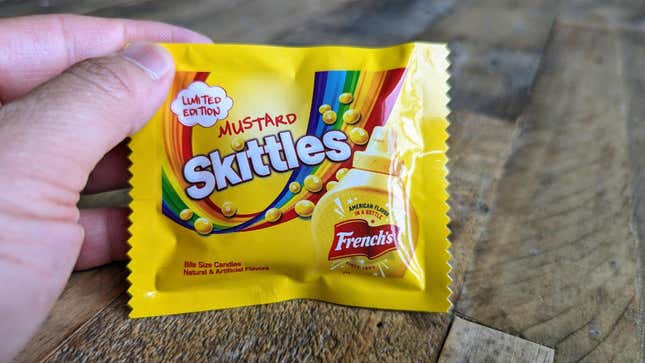 August 5 was National Mustard Day (yes, there is a holiday for everything), and to celebrate, French's teamed up with Skittles to orchestrate a co-branded marketing stunt. We now live in an age where French's mustard flavored Skittles exist. How does it feel?

How To Dispose Of Cooking Grease The Easy Way After Frying
This is the fifth year in a row French's has done something cheeky like this to celebrate National Mustard Day. In prior years, the brand has teamed up with other brands to create mustard ice cream, mustard beer, mustard buns, and mustard doughnuts; you can read more about all of them here. But mustard Skittles somehow feel like the biggest swing yet. French's sent us a sample to taste, and we found ourselves wondering just how bad they could be.
How do French's yellow mustard flavored Skittles taste?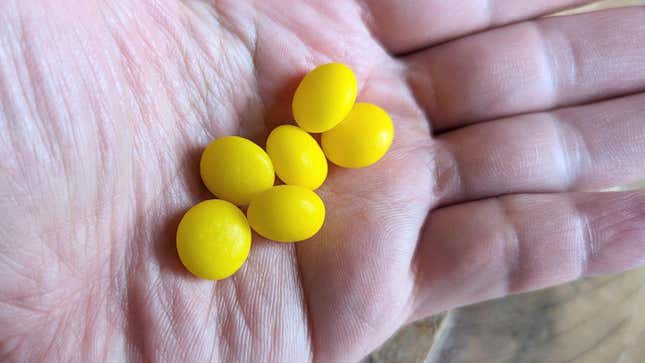 The first notable thing about these Skittles, aside from the obvious, is that they look and feel immediately different from a regular bag of fruity rainbow Skittles. They lack the typical shiny, slightly crunchy coating, with more of a matte appearance. We thought at first that the signature "S" was missing, too, but it's there—just very faint.
Eating a Skittle without its crackly shell is a very different experience, to say nothing of the mustard. After the first few chews of the surprisingly soft candy, it becomes very apparent that these things are a one-off, likely produced this way to save time, or to make the interior flavor feel more pronounced.
Let's talk about that flavor. One of the primary elements of classic yellow mustard is vinegar, which is notably absent from these Skittles, replaced by something closer to citrus. You're left with the sharpness that mustard seed provides, and while it doesn't quite reach a nose-searing peak here, it's tart enough to approach it. The Skittles are, of course, sweet, and since mustard is usually tempered by salt, the lack of any savory edge is extremely perplexing. I'd liken it to sweet wasabi, just not as piquant.
That's not to say mustard Skittles are bad, per se—they're just confusing, and that's probably exactly what they were designed to be. Two different coworkers tasted the candy, and both gave me identical quizzical looks. Neither hated them, but no one reached for more than a single Skittle.
Leading up to National Mustard Day, samples of the French's x Skittles collab were given away in Atlanta, Washington D.C., and New York, plus an online sweepstakes that concluded on August 5. So no, this candy isn't going to invade grocery stores, and that's just fine. I'm here to tell you that you didn't miss anything except for another silly marketing stunt (and there are plenty of those). The real fun is trying to guess what French's might be planning to release this time next year.