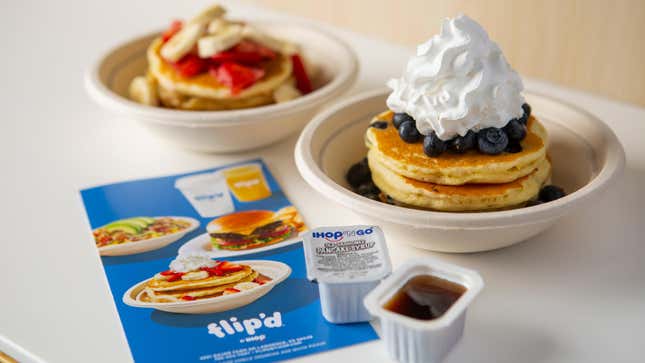 Update, December 16, 2021: Good news, you east coast urbanites! Flip'd by IHOP, growing purveyor of build-your-own pancake bowls, has expanded its reach to the Flatiron District of New York City. A press release sent to The Takeout confirms that the newest location is now open for business, describing the Flatiron outlet as the "first major city branch" of the burgeoning brand. (Tell that to the fine people of Lawrence, Kansas.)
McDonald's Shrinks Its Restaurant for the Digital Age
The new location can be found at 110 E 23rd St near Park Avenue South, and IHOP hopes that this is only the beginning of its multi-pronged approach to all-day-breakfast dominance. The owners of Flip'd, according to the press release, have plans to "grow and develop the brand's footprint across New York City and aim to expand to 10 locations across the five boroughs in the next five years." That's a lot of hotcakes.
Of course, the brand is also eager to remind us that it's not only about the pancakes, you know. The chain—which, again, is named Flip'd and is operated by the International House Of Pancakes—will have you know that it has other signature dishes to offer, too, okay? Here are some menu items highlighted in the press release:
Bacon Temptation: Two scrambled eggs over crispy potatoes topped with jack and cheddar cheese, hickory-smoked bacon, roasted tomatoes, and zesty hollandaise available in a bowl [or] burrito
Jalapeño Zing Sandwich: Sautéed jalapeños, Serrano and onion, hickory-smoked bacon, pepperjack cheese, and mayo
The Harvest: Harvest grains topped with shredded jack and cheddar cheese, baby arugula and spinach, sautéed mushrooms, roasted tomatoes, sliced avocado, and avocado cream
Sounds pretty good, and I'd gladly sample any one of them. But it's admittedly hard to retrain my brain to summon any of these fast-casual foods when I'm presented with the IHOP logo. For me, it'll always be about those build-your-own pancake bowls. Maybe those 10 upcoming NYC locations will help establish Flip'd as more than just a breakfast joint.
Update, September 28, 2021: Some restaurant concepts loom large in our minds, and when we're not thinking about the harrowing implications of something like the Taco Bell Defy, we're daydreaming about Flip'd by IHOP. The latter was initially announced all the way back in 2019, promising busy urbanite professionals the chance to sneak away to a lunchtime oasis of build-your-own pancake bowls and other all-day breakfast essentials. Locations were slated to open in Atlanta, with the chain eyeing additional sites in New York, D.C., Denver, Chicago, and San Francisco.

Fast-forward to the throes of the pandemic, and Flip'd by IHOP seemed to have undergone a slight re-concepting as it prepared to (maybe? finally?) launch. In May 2021, the company promised an NYC location in July, with additional locations planned for Kansas and Ohio. Atlanta seemed to no longer be in the cards by that point.
And now, we can see that Flip'd has perhaps dispensed of its emphasis on the nation's largest metropolitan areas altogether, because today, the first Flip'd by IHOP has opened in Lawrence, Kansas. Congrats, Lawrencians! May your whipped cream runneth over!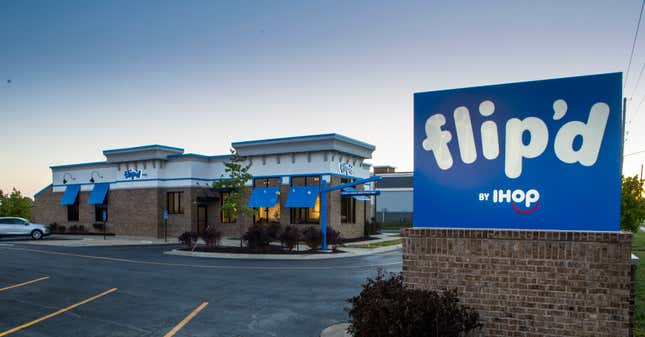 The new restaurant concept seems to have taken valuable lessons from 18 months of pandemic-related market research. It includes a drive-thru, which seems all but required of any concept opening in a post-pandemic world. It's also emphasizing the availability of pick-up and delivery while seemingly downplaying its on-site dining (though the location does appear to have some counter seating available). And of course, its pivot away from city centers could say something about where people are choosing to conduct their workday in 2021, as opposed to 2019.
More Flip'd locations are planned for 2022. We will be here waiting with eager anticipation to see where pancake bowls forge their bold path next.
Update, May 20, 2021: Back in December 2019, IHOP had big plans. It was going to open Flip'd, an urban fast casual concept that featured all the assembly-line efficiency and digital-ordering modernism of Sweetgreen, but applied to bowls layered with pancakes, eggs, and bacon. (And fruit. There's fruit involved.) The first Flip'd was set to open in spring 2020, per the initial press release. You can imagine why it didn't.

Now, though, IHOP is feeling optimistic. According to a press release sent to The Takeout, the first Flip'd location will open in New York City this July, and three additional locations will open later this year in Dublin, Ohio; Columbus, Ohio; and Lawrence, Kansas. Notably, the original concept was limited to major metropolitan areas, but is now focused on spreading outward to a greater customer base. It's reasonable to assume that everyone could use some pancakes right about now.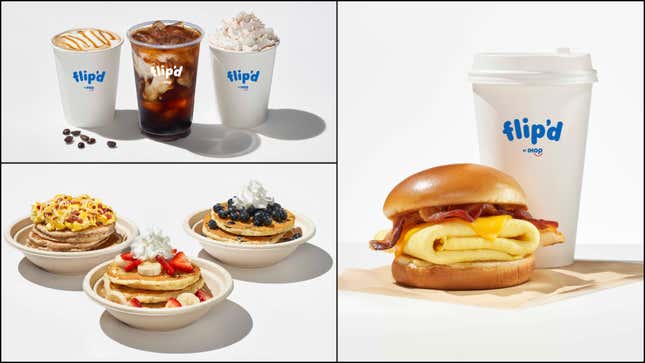 "Since we originally announced flip'd in 2019, a lot has changed," said IHOP president Jay Johns in the press release. "While we know there is a pent-up demand for a return to dining in restaurants, we anticipate that our delivery and takeout business is here to stay as consumer needs continue to shift and they seek out different ways to experience IHOP favorites."
So, would you describe yourself as someone "seeking out different ways to experience IHOP favorites"? Are you likely to patronize this on-the-go pancake concept? Do midday build-your-own signature pancake bowls sound like something you'll integrate into your weekday routine? Let us know in the comments.
Original post, December 11, 2019: We've all been there: living our busy, urban lives, simply trying to have it all, with only a few minutes to squeeze in a quick lunch between our important business meetings. We scroll through the lackluster options on our food delivery app, and think to ourselves: "I want food that's made efficiently. I want something I can eat on-the-go. And, above all, what I really want is something called a Pancake Bowl." Well, finally, the future will finally arrive sometime this spring.

The International House of Pancakes is rolling out a fast-casual restaurant called Flip'd by IHOP. (No, unfortunately it's not called the International Fast-Casual Restaurant of Pancakes [IFCOP].) And yes, they're selling something called Pancake Bowls. It appears that the ubiquitous chain is trying to become the Chipotle of all-day breakfast.
Currently, the only confirmed Flip'd by IHOP location will be in Atlanta, but IHOP is exploring sites in New York, D.C., Denver, Chicago, and San Francisco. The new chain is intended for busy folks in dense cities. There's no waitstaff, and food can be ordered by digital kiosk or through an assembly line, à la Chipotle or Sweetgreen. Except instead of concocting whatever combination of salad bedding and veggies they'd like, customers will be assembling bowls of pancakes, fruit, bacon, cheese, and eggs. (Yikes.) They can also order made-to-order breakfast burritos, grab-and-go salads, or popular items from the IHOP menu, such as the Ultimate Steakburger.
The idea makes sense, I guess. I mean, who's going to go for a sit-down breakfast at an IHOP in the morning before work? Or during work? But to me, pancakes are a sacred meal reserved for weekends in sweatpants, often with a light hangover. They're not to be eaten in a rush. But I have a terrifying feeling America's going to disagree with me on that one.