Last Friday marked the return of Somebody Feed Phil, the Netflix docuseries I called the sweetest, most joyful food show on television. My opinion hasn't changed with season two, which finds endearing-goof-host Phil Rosenthal visit—with childlike bug-eyed wonder—to six new cities, including Copenhagen, Cape Town, and Dublin.
This season's first episode takes place in Venice, and it's there we find Rosenthal visiting a cicchetteria—the Venetian equivalent to the tapas bar.
Now, TV eating segments fit into the legal definition of pornography—it's mostly an empty titillation of the viewer's senses, and the money shot is watching the eater's face twist into pleasurable contortions. But this particular scene at a cicchetteria named Schiavi engaged me in such a way I had to replicate the dish next day. Rosenthal is served tuna on bread dusted with cacao—yes, cocoa powder. Fish with chocolate.
"Sounds disgusting, no?" Rosenthal said. "No!"
I had to try this new, heretofore uncharted flavor combination for myself. (It's not the first time I was inspired to make a dish from the show.) I bought the nicest jar of tuna belly I could find, and a bar of 100 percent cacao.
G/O Media may get a commission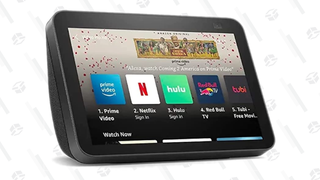 Back home, I sliced some baguettes, spooned on some tuna belly, grated the cacao, and drizzled with olive oil.
Oh my. It's super subtle, molto sophisticated, a flavor pairing that might be served as an amuse bouche at a three Michelin-starred Italian restaurant. What bridges the worlds of tuna and chocolate is the olive oil. There's no sweetness to the grated cacao, just a bittersweet nuttiness that finds commonalities with the oil. It's a rather devious illusion being played: You taste only the tuna and olive oil, but on the back end you catch the slightest notion of buttery chocolate. If you can accept the idea of Oaxacan mole, then the concept of tuna and cacao shouldn't be that strange to you. It's really nice and surprising, and I may pull this out of my bag of tricks next time I want to get my dinner party guests talking.