I'm on the record as a fan of Somebody Feed Phil, the Netflix travel food series from Everybody Loves Raymond creator-turned-professional wanderlust Phil Rosenthal. It's a sweet, joyful, non-cynical show in the vein of Anthony Bourdain or Andrew Zimmern, but with a 12-year-old host in the body of a 58-year-old—every experience and dish he encounters are new and exhilarating.

The show has also been an unexpected inspiration for me trying to cook new dishes. The Bangkok episode featured a particularly enticing crab omelet, a dish I'm hoping to replicate once I can justify buying $80 worth of crab meat. A more inexpensive but equally compelling dish comes from the Mexico City episode, in which Rosenthal visited the home of famed Pujol chef Enrique Olvera. One of Olvera's son prepared a quesadilla recipe concocted by his sister. Rather than two tortillas sandwiching the cheese (or folded once over), the young Olvera placed the open-faced quesadilla on the skillet cheese-side down. He flipped the quesadilla once the cheese became browned and crusty, allowed the tortilla to crisp up, then served the quesadilla—but not before a squeeze of lemon. Now this was something I had to try.
First, the tortilla. I can't stand flour tortillas, so I opted for ones made from white corn. In the episode, the young Olvera used some sort of string cheese, which led me to believe it's Oaxacan. But I only found Manchego at my supermarket, another Mexican melting cheese ideal for quesadillas.
Manchego doesn't pull apart quite like Oaxacan. It's more crumbly, so I sliced the cheese into long strips and laid it atop the corn tortilla. With conviction, I thwaped that quesadilla cheese-side down onto my cast iron skillet, set at a medium heat. Oil quickly melted from the Manchego and seeped onto the pan. It took about four minutes (along with some forceful pressing of the spatula) until the underside looked sufficiently browned. Then came the hardest part: Getting my spatula underneath all that melted cheese and flipping it without disturbing that continuous crisp surface. This, my friends, took several tries. The fact that Manchego doesn't adhere well to the tortilla also made things tricky.
Nevertheless, the flip did occur, crispy browned cheese was procured, and open-faced quesadilla was achieved. Who said it was gonna look pretty?
G/O Media may get a commission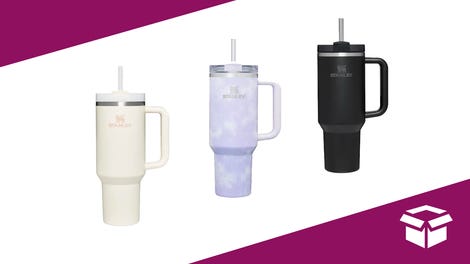 Up to 45% off
Stanley Cup Sale
As instructed, I squeezed the juice from a lemon wedge over the crisped cheese.
Okay, it was pretty dang delicious. You get double the crispy tactile pleasures from a standard-fare quesadilla, plus there's that Greek saganaki-thing going with the lemon juice-gooey cheese combination. This is the type of food I'd throw together if I came home from work after 8 p.m., I'm too lazy to even use a can opener, and I was jonesing for both a quesadilla and that fried cheese-on-toothpicks they hand out at farmers markets. So thank you, Phil Rosenthal, for your delightful show, and thank you for bringing this deliciously dead simple dish into my life.