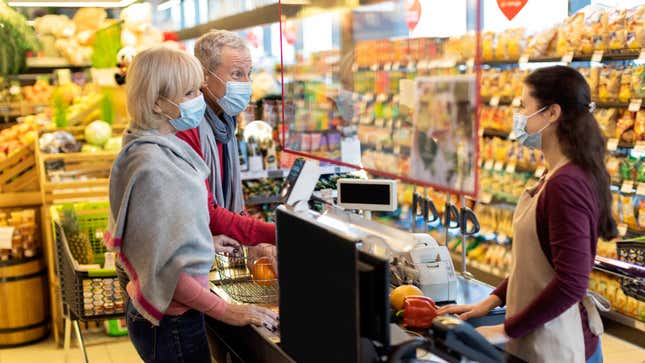 While some of us want to get in and out of the grocery store as soon as possible, not everyone is into the idea of self-checkout lanes and curbside pickup. For some shoppers, the supermarket is one of the few reliable places for regular social interaction, and one chain of stores in the Netherlands is trying to foster that sense of community.
How To Dispose Of Cooking Grease The Easy Way After Frying
Jumbo, a Netherlands-based supermarket chain, introduced "slow lanes" back in 2019 for shoppers who want their checkout process to include some friendly chatting. The concept was designed around the needs of senior citizens, but anyone can use the slow lanes—and shoppers must love it, because the number of Jumbo locations with such checkouts was increased in 2022. If in-store grocery shopping is going to win out over the convenience of delivery or curbside pickup here in the United States, we might take some cues from Jumbo to keep foot traffic high.
The Kletskassa, or directly translated "chat checkout," is similar to a feature Uber offers for certain car rides where you can choose what level of small talk (if any) that you'd like to have with the driver. For those who would enjoy a little conversation and aren't rushing to get dinner on the table, this unique checkout option creates a perfect opportunity for social interaction. But of course, if you'd prefer a "get in and get out" experience, the regular lanes (plus self-checkout, pickup, or delivery) are still available.
U.S. supermarket chains already have plenty of in-store amenities that invite shoppers to take their time and stick around. For example, my local Mariano's features a smoothie bar and a doughnut-and-coffee counter, each with an area for shoppers to sit down and enjoy their treats. Plus, many Whole Foods locations have long had coffee bars, poke bowl stations, tap rooms, and a number of other options for on-site dining and lounging.
Yet there is one major difference between these options and what's being offered at Jumbo. American grocery chains focus on constructing amenities that maximize per-customer sales; naturally, stores are trying to keep people around longer in ways that specifically invite them to spend more of their money. By contrast, Jumbo's Kletskassa exists to provide an additional service at no additional cost; it's an initiative launched in partnership with the National Coalition against Loneliness. Since grocery stores are pretty much community gathering spaces by default, taking a more altruistic approach to their design would be a game changer.
Studies have shown that the majority of consumers actually prefer to shop in-store for groceries despite the convenience of delivery and pickup options because they like choosing the items for themselves. And aside from the variety of on-site dining options, grocery stores offer many surprising services you wouldn't necessarily think to take advantage of unless you walked into the store, such as custom flower arrangements and special orders. What if we thought about how to maximize the sociability of each of these interactions? 
At a time when technology is automating seemingly every other aspect of the food industry, it's well worth keeping the grocery store experience decidedly human and highly sociable. But we have to be proactive about fostering that kind of community—if we don't, cashiers might disappear altogether.