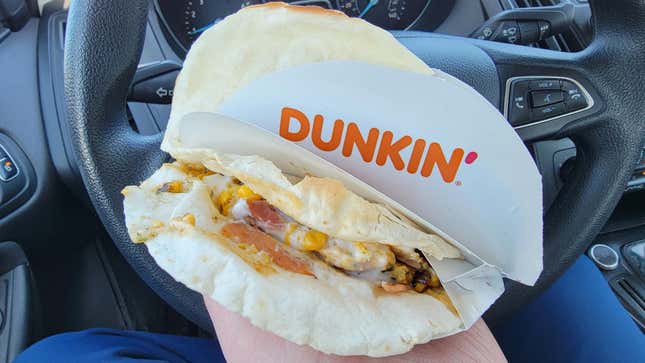 When it comes to breakfast, some of us are all about the sweets. Take Dunkin', for instance: Though its menu lists a solid roster of sandwiches, the company is known largely for its formerly namesake doughnuts. But now that spring has officially sprung, Dunkin' is looking to add some oomph to the menu with a pair of new Breakfast Tacos.
This is the Best Dairy Substitute for Your Morning Coffee
"Our culinary team has expertly crafted these Breakfast Tacos with the vibrancy of Spring in mind," states Chief Marketing Officer Jill McVicar Nelson in the Dunkin' press release. "These tacos are undoubtedly one of the tastiest savory items we've launched at Dunkin'."
I'm all about fresh flavors, especially if they bring a little zing to the first meal of the day. So when the statement went on to hail these tacos as "the ultimate in on-the-go deliciousness," I have to admit Dunkin' had my attention.
In truth, I've been keeping an eye on Dunkin' ever since its surprise showing in my taste test of espresso shots from all the major coffee chains. I was a big fan of the Beyond Sausage Sandwich for a time, and my fondness for the Wake-Up Wrap dates back to my stint in retail.
To some extent, the tacos have a similar base: "Starting with a warm flour tortilla," reads the description, "the satisfying and flavorful tacos are made with scrambled eggs, melted sharp white cheddar cheese, fire-roasted corn, and a drizzle of tangy lime crema for a refreshing finish." This offering retails for $2.79, with a $2.99 version adding "crispy crumbled bacon topping." Sounds like a winning combo to me!
How do Dunkin's new Breakfast Tacos taste?
Only hours after learning of the existence of these new tacos, I ordered one of each from my local Dunkin' drive-thru. Brace yourselves, breakfast fans, because what follows gives me no pleasure.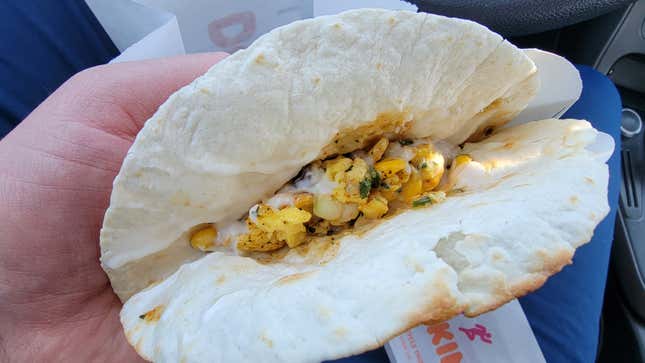 Dunkin's breakfast tacos taste very, very green. And not in the way you might expect, like chile verde or guacamole. My first bite was dominated by the flavor of sour lime, landing on my palate like a bullfrog. This is a shame, as it comes in direct contrast to Dunkin's product description. That crema wasn't a "refreshing finish," it was practically the whole darned experience! And it's not like the taco was slathered in the stuff, as the photos show. The flavor, apparently, is just that pungent.
I don't have much to say about the rest of the basic taco's ingredients, in part because of just how little there was inside. For $2.79, I received a flour tortilla (albeit a tasty one) filled with approximately three tablespoons of eggs, corn, and cheese. That's not a good look, considering I can drive up the road and get two breakfast burritos for $6 at Taco John's.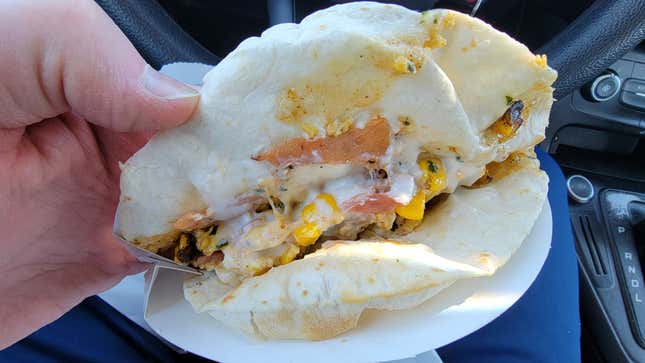 For a few cents more, Dunkin's $2.99 bacon-topped taco tasted significantly better. There was more egg to go around, along with about 60% more filling. From a portion standpoint, this feels right on the money. The salty bacon helps cut the sourness of the crema, but that unwelcome key lime flavor persists.
The structural issues of Dunkin's Breakfast Tacos
If you've ever had one of Dunkin's Wake-Up Wraps, you'll be familiar with the delivery medium here. And as I said, from a textural and taste standpoint, the flour tortilla is good. It's also, however, very flaky around the edges.

In an effort to combat this issue, the tacos come packaged in a "convenient Dunkin' taco holder to keep all the premium flavors in place," per the press release. But when you combine the tortilla's crumble factor with the unwieldy nature of bacon bits and corn salsa, the reality of the situation is this – You're going to wind up with food in your lap or, even worse, stuck between your crotch and the car seat.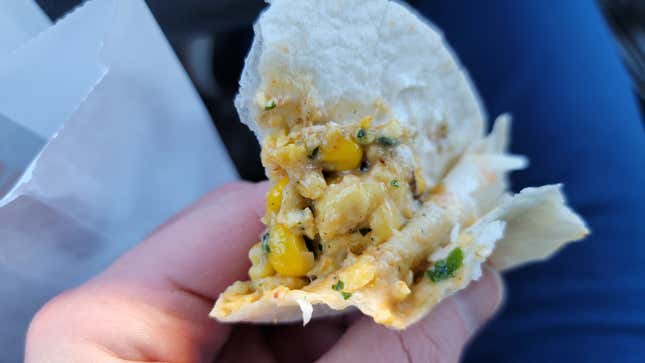 I take no joy in any of the complaints listed above. Breakfast tacos and burritos are one of my favorite ways to start the day. Unfortunately, Dunkin's new offerings are average at best, and slightly off-putting at worst. Maybe a reformulation of the sauce or a swap from corn salsa to those delicious circular hash browns would help right the ship. But as it stands, these breakfast tacos left me feeling decidedly sour. (The iced espresso, however, was still wonderful.)