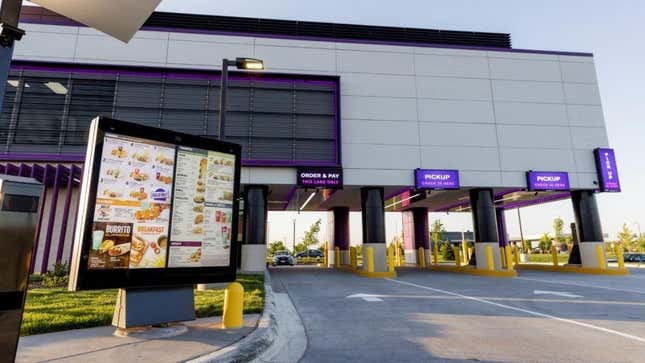 Old habits die hard, don't they? When indoor dining rooms closed during the pandemic, the world pivoted to drive-thru not just for their fast food, but a whole host of services, including prescription pickup, COVID tests, and sit-down restaurants. Three years after the pandemic began, takeout and delivery orders are more ingrained in our routines than ever, and for fast food restaurants in particular, this has led to innovation in one specific area: the drive-thru.
As National Restaurant News noted last year, a July 2022 report indicated that drive-thru sales made up 75% of all fast food sales even after COVID restrictions loosened. Big chains are betting big on their drive-thru lanes, and it's possible that the drive-thru of the future hardly resembles the ones we see today. Here are some of the key changes happening.
Multiple drive-thru lanes
One of the major trends among the most futuristic new drive-thrus is that they make use of multiple lanes simultaneously. It's not just to cut down on the long line of cars snaking through the parking lot, either—the different lanes are designed to field different types of orders. For example, the Taco Bell Defy, a two-story, drive-thru-only location in a suburb of Minneapolis, looks a bit more like a toll plaza or a parking garage than a fast food joint. But its multi-lane setup is its defining feature, aiming above all to fulfill customers' orders in two minutes or less. As the customer, you choose your lane based on how you placed (or will place) your order. One lane is for orders placed in the Taco Bell app, one is for third-party delivery drivers picking up orders, and another is for shouting your order out the window into a speaker the old fashioned way.
The franchisee of the experimental Taco Bell Defy told PYMNTS that the idea came about early on in the pandemic, when all of the business was happening via drive-thru.
"It was easy to order because we have multiple points of access in terms of the web, the app, drive through and third-party aggregators, like DoorDash," they explained. "But clearly the problem still remained that everyone went in the same place to pick up their food." The new setup will, ideally, alleviate such traffic jams.
G/O Media may get a commission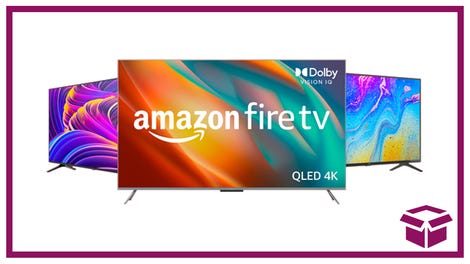 Ooh. stunning.
New Amazon Fire TVs
Highly specific ordering areas
Taco Bell isn't the only chain streamlining its drive-thru. McDonald's is also experimenting with multiple pickup points at a new location in Fort Worth, Texas. The tiny restaurant, which has no dining room, is designed for takeout only, and features a dedicated area for delivery pickups, another one for ordering takeout via kiosk, and another for picking up orders already placed in the app.
Although the tiny McDonald's has indoor spaces in which the food can be ordered and picked up, the boxy design is chiefly drive-thru-focused. Ordering ahead means you join a different drive-thru lane.
Extra drive-thru technology
Technology is playing a large role in the future of drive-thrus, too, of course. KFC just opened a solar-powered drive-thru in California whose panels will save the franchise location approximately $11,000 in annual energy costs. And just this week, Xenial, a restaurant tech company, recently set up a smart drive-thru concept at Mercedes Benz Stadium in Atlanta to showcase its latest innovations, reports ABC affiliate WSB-TV.
Xenial's drive-thru uses cameras to track cars, which adds another layer of assurance that customers get their correct orders, while an AI-powered menu board suggests items based on the car itself. For example, a customer driving a minivan might be served with suggestions for kids' meals, since it's typically a family vehicle. (I can only assume it will suggest the most expensive item on the menu for someone driving a convertible.) Xenial supplies to Burger King, Jack in the Box, Wendy's, and others, so these new drive-thru designs are able to be implemented nationwide.
Of all locations Chipotle opened last year, 85% of them included a "Chipotlane," according to the company's Q4 earnings report. Overpriced salad chain Sweetgreen even opened its first drive-thru location in November, though its design leaves something to be desired. The drive-thru is, without question, experiencing a renaissance. While it has historically been associated primarily with cheap food, it's quickly becoming a staple for a wider swath of the industry and might soon pop up at more sophisticated establishments too.