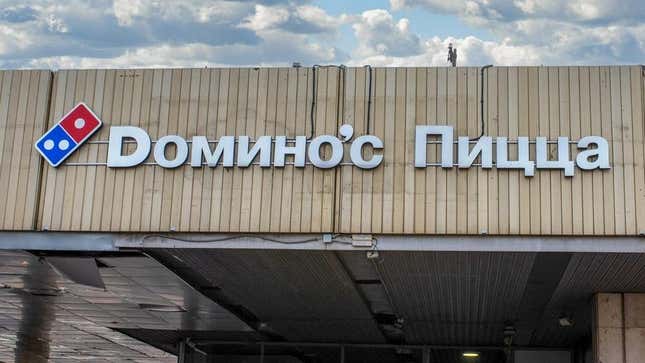 Long after the exit of some other fast food chains in the region, Domino's will close all its locations in Russia, per an announcement by the company that owns Domino's franchise rights in the country. CNN reports DP Eurasia, the primary franchisee of Domino's Pizza in Turkey, Russia, Azerbaijan, and Georgia, operates 142 Domino's locations in Russia and has decided to file for bankruptcy.
How To Dispose Of Cooking Grease The Easy Way After Frying
"With the increasingly challenging environment, DPRussia's immediate holding company is now compelled to take this step, which will bring about the termination of the attempted sale process of DPRussia as a going concern and, inevitably, the Group's presence in Russia," reads the statement in part. "A bankruptcy petition of DPRussia will be filed in accordance with the relevant statutory requirements in due course."
For consumers in Russia, this is yet another familiar fast food option that will no longer be available. In May 2022, McDonald's officially announced its departure from the region, citing Russia's February 2022 invasion of Ukraine as the main catalyst. Similarly and within the same month, Starbucks also chose to exit Russia and shut down 130 of its shops, as reported by Gizmodo (which, like The Takeout, is part of G/O Media).
When McDonald's made the decision to "de-Arch" Russia (the brand's words), it did so by retaining its trademarks in the country, but removing all of its branding, including its logo, menu, and name. The burger chain also continued to pay those 62,000 employees until its assets in the region were purchased. Starbucks also continued to pay its employees in Russia for six months and announced it would aid in finding them employment opportunities outside of Starbucks. Every fast food chain took a slightly different approach to the question of exiting the Russian market.
KFC, which also took its leave from Russia in April of this year, allowed for some of its franchisees to keep existing shops open and not rebrand those stores if they didn't want to. Those that did rebrand were changed to a local fried chicken chain called Rostik's. The McDonald's restaurants in Russia were also taken over by a local licensee called "Vkusno & Tochka," which means "tasty and that's it."
It is still unclear how Domino's will handle its own departure from Russia, as the company states updates will be provided as the matter progresses. But it is possible that the restaurant locations could continue operating under new branding, in which case consumers within the Russian market would still be able to purchase what is, more or less, a Domino's pizza.