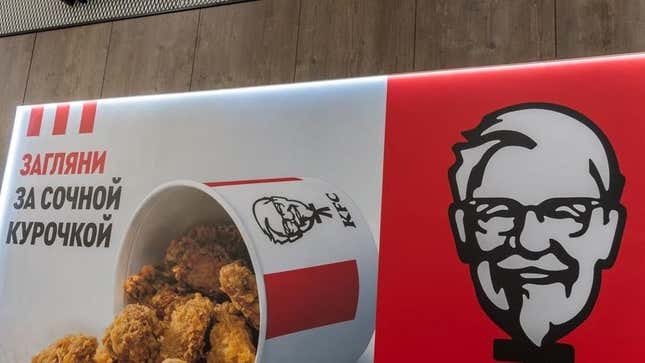 Fourteen months on from Russia's invasion of Ukraine, the fast food brand exodus from Russia continues. KFC has finalized its exit from the Russian market, but the nation's people will not be left without fast food: Reuters reports that another chain, Rostik's, is popping up to take its place. It just goes to show that no matter where you live, it's important to get one's fill of fried chicken.
McDonald's Shrinks Its Restaurant for the Digital Age
What is Rostik's, Russia's KFC replacement?
Rostik's (sometimes transliterated as "Rostic's") is a restaurant chain that was founded in 1993 as Russia transitioned from communism to capitalism. In 2005, KFC partnered with Rostik's to begin its expansion into Russia; by 2010, KFC eventually exercised an option to wholly buy out Rostik's.
Now, as KFC makes its exit from the Russian market in response to Moscow's attacks on Ukraine, the company has transferred all of its franchise rights to a local business, a franchisee system named Smart Service. This company holds the trademark for the Rostik's brand, along with all of KFC's 1,100 locations in Russia.

Not all Russian KFC locations are gone
There will be remnants of KFC within the Russian market, as franchisees have been allowed to keep existing shops open and won't be forced to rebrand those stores if they don't want to. This is similar to how Subway has allowed some operators to stay open in Russia, as those stores are independently owned. However, all profits from those Subway locations redirect to Ukrainian war relief efforts.
KFC's exit echoes that of McDonald's once the Golden Arches pulled out in 2022. A local licensee took over the McDonald's restaurants, replacing them with a new brand called "Vkusno & Tochka," which means "tasty and that's it." Its food has received mixed reviews.
KFC had a presence of about 1,100 restaurants in Russia prior to its exit, and the company had been targeting the Russian market for expansion up until the war between Russia and Ukraine began in February 2022. The KFC employees will continue to be retained by Rostik's.
What's on the Rostik's menu?
Rostik's menu will be nearly identical to KFC's, though the names of the offerings will change. For example, the Twister (which is KFC's take on the Snack Wrap) will be called the Chef-Roll, while another product called the Boxmaster will be called the Rostmaster. No word yet on whether the Colonel's secret signature blend of 11 herbs and spices will remain the same.
It sounds like not much will change from the customer's perspective. Rostik's logo is even the familiar KFC colors of red, white, and black. Smart Service estimates that the entire rebranding will take about 18 months, and Russians will be able to continue crunching on drumsticks as usual, just under a slightly different banner.