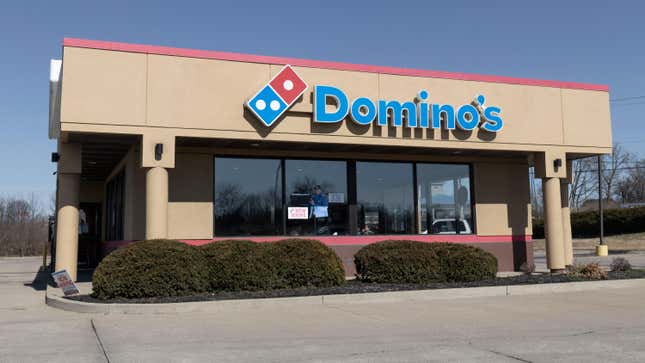 Although Domino's is currently the top pizza chain in the United States, it's not because it sells the cheapest pies. In fact, it can often be one of the more expensive options available in a given area, even compared to mom-and-pop shops. So when there's a deal to be had on Domino's pizza, it's worth pouncing on. Now is one of those times. 
McDonald's Shrinks Its Restaurant for the Digital Age
From now until March 26, Domino's is offering 50% off all menu-priced pizzas to celebrate March Madness. That's some of the cheapest Domino's you'll be able to grab all year.
How much do Domino's pizzas cost?
On a normal day when the chain isn't running a promotion, my local Domino's sells a large specialty pizza (such as the ExtravaganZZa, Spinach and Feta, or Honolulu Hawaiian) for $20. That's a lot of money for a 14" pie, and of course, the X-large 16" pizza is several more dollars than that. Half off brings that pizza down to $10, and for that price, I'd consider the pizza worth it.
To put this into perspective, other Domino's coupons running concurrently to this one—you can only use one at a time, obviously—might allot you fewer toppings than the March Madness deal, for a higher price than the 50% off cost. One coupon running at a location by me allows you to purchase two two-topping pizzas for $12 each, with the requirement being that you have to order both at once. That's okay, provided you were planning on ordering two pizzas to begin with, but specialty pizzas come with a lot of bells and whistles, and usually more than two toppings.
Most coupons are location-specific; I changed my pickup location on Domino's website to see how coupons vary at different shops, and sometimes the differences are stark. But the March Madness offer of 50% off all menu-priced pizza is a national promotion, and since it's so straightforward, it's one of the best deals to take advantage of.
Plus, Domino's has been tightening up on its specials lately, to accommodate market conditions. The $7.99 large pizza carryout deal, which once offered three toppings, has now been trimmed down to one topping. And the chicken wing appetizer, offered for the same price of $7.99, has gone down from 10 wings to only eight per order.
Domino's has some hits and some misses, but the pizza always hits the spot, and a deal is a deal. Considering how volatile food prices have been over the past few years, I know a good discount when I see one. You've got until March 26 to take full advantage of Domino's best offer of the year.