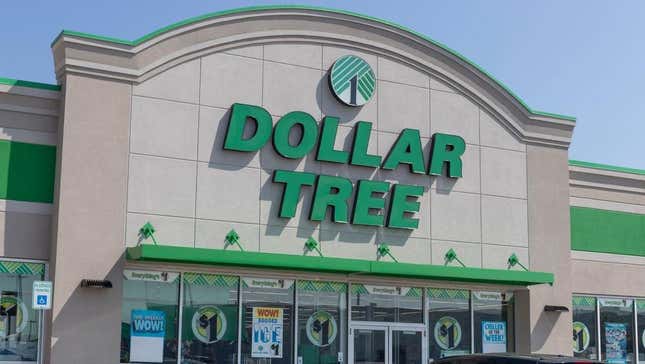 Step into a dollar store these days, and you're going to need more than a single in your pocket. Dollar Tree, one the most well-known chains of discount stores in the country, is now implementing a "multi-price" strategy that will take the brand's product pricing up to $5, Grocery Dive reports.
How To Dispose Of Cooking Grease The Easy Way After Frying
Dollar Tree's price increases, explained
The strategy started off small, with the company first upping its prices to $1.25 back in 2019. Though Dollar Tree did receive some backlash for the decision, current CEO Rick Dreiling said in a recent earnings call that the negative response has, by 2023, mostly died down.
By the end of last year, Dollar Tree had expanded its line of products at the $1.25 price point, making them available at 2,500 stores and four distribution centers, and the brand has plans to increase that number to 4,300 stores and seven distribution centers by the end of this year, according to a presentation given by the company's Chief Merchandising Officer, Rick McNeely, at the annual investor conference.
Recently, Dollar Tree has strayed even farther from the "dollar" part of its name: In May, it began offering some refrigerated items for $3 at 140 store locations. The discount chain has also piloted selling $3 packaged bread and $5 ice cream in hundreds of stores. McNeely explained at the investor conference that by selling items in a higher price bracket, the chain can sell things like additional proteins and branded ice creams, which it had not previously been able to offer.
How Dollar Tree's new prices affect business
The largest test of Dollar Tree's expansion into $3, $4, and $5 products has been in its frozen section. In the stores participating in this "multi-price" strategy, seven refrigerator doors offer products for $1.25 and three offer products for $3, $4, and $5. The company plans to move to having only two doors with $1.25 products and eight with the $3, $4, and $5 products by 2025.
Though initial reactions to the more expensive products might be negative, Dollar Tree's numbers would say otherwise: The multi-price products accounted for 21.8% of sales in their respective categories in the first quarter of this year. Dollar Tree also found that when a customer placed a "multi-priced" item in their basket, they spent more than twice as much as they would in a normal transaction.
To be clear, Dollar Tree's strategy has not been to increase prices on products that currently sell for just over $1, but rather to begin offering new additional products at the higher price point. To offset these changes in the pricing structure, McNeely also noted that around 300-400 products will return to costing $1.
When a customer steps into a "dollar store," they might reasonably assume that everything in the store will cost around a dollar (tax excluded). In 2023, they might enter a store that has a lot more variety, which could even lead to greater utility—but they'll have to keep a closer eye on the price tags.