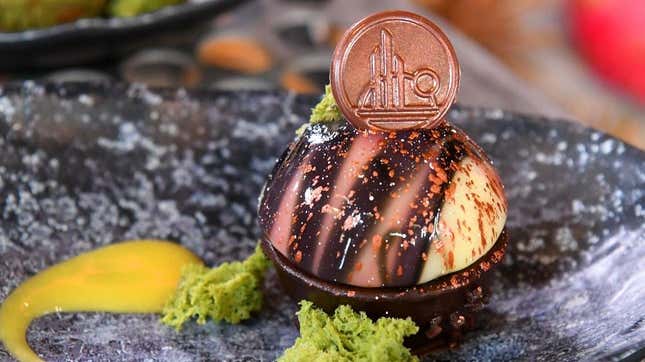 For many Florida tourists, the food at Disney World is almost as much of a draw as the amusement park rides and costumed characters. But like so much else about a trip to Disney in 2023, snagging mobile food orders and dining reservations can be complicated—not to mention more expensive than ever. Still, millions of people travel to Orlando each year for the privilege, yet one major sticking point remains: the question of tipping.
How To Dispose Of Cooking Grease The Easy Way After Frying
In a recent post titled "Three Super Cringe Things People Keep Doing in Disney World," the Disney Food Blog bemoaned the consistency with which guests leave the restaurants in the park after a meal without tipping their server. The blog offers one possible (and rather charitable) explanation for the lack of tipping, which is that park-goers might incorrectly assume tips are included within the Disney Dining Plan. These are packages that tack on a set daily amount of restaurant or quick-service meals to the price of each park entry ticket. They're ostensibly designed to build in more convenience for families, though depending on your eating habits, they might not be the best value, since a plan that includes sit-down restaurants costs about $95 per adult per day—and again, that doesn't include tips. (You can, however, add in a tip when paying with a MagicBand, the RFID bracelet worn around the park that allows guests to sync all digital transactions to their personal profile.)
Another reason people might not be tipping is that Disney World attracts tourists from all over the globe, and many of them come from countries where tipping is not a culturally recognized practice. There are a plethora of Reddit threads where conscientious travelers ask about exactly how tipping works, and even some threads where they dismiss the idea entirely. For those who aren't deliberately looking to stiff servers, though, it can still be confusing, and Disney experts often hop into the thread to explain the finer points of who to tip and when.
That said, tips aren't evenly accepted at all Disney dining outlets, which further complicates things. As noted by the Disney Food Blog, sit-down restaurants follow typical tipping procedure—a tip of 18% to 25% of the total bill is customary, perhaps more for exceptional service—but at quick service outlets, tipping is not permitted. That means the vendor who sold you a Mickey pretzel can't be shown any monetary appreciation for braving the Florida heat. And remember, for parties of six or more, gratuity is often automatically applied to the bill's total, so always double-check receipts and make sure you understand when and how much your server is being compensated.
As a general rule, what applies at restaurants nationwide applies at Disney, too. It helps to always think about your vacation food budget in terms of what it will cost after the tip, not before. That way you aren't trying to maximize your meals by neglecting those who served them to you.