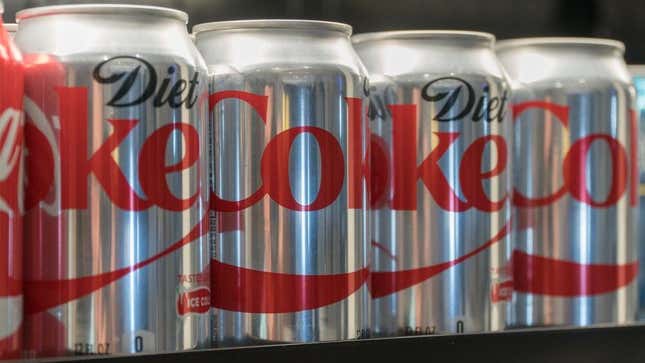 The World Health Organization, that harbinger of joy, is apparently set to list aspartame as "possibly carcinogenic to humans," according to a leaked report. The most common artificial sweetener in the world (it's found in thousands of products globally), aspartame is used in everything from Diet Coke to Trident gum to Crystal Light to sugar-free Jell-O. If you're following any '90s-era fad diets, perhaps take heed.
How To Dispose Of Cooking Grease The Easy Way After Frying
The WHO vs. aspartame, explained
Reuters reports that the WHO's International Agency for Research on Cancer is expected to add aspartame to its list of possible carcinogens in July. The IARC's decisions on whether something is a potential hazard are based on assessments from published research. The classification levels—"carcinogenic," "probably carcinogenic," "possibly carcinogenic," and "not classifiable"—are based on the strength of the evidence, not necessarily how dangerous a substance is.
Aspartame's potential label of "possibly carcinogenic" means there is either limited evidence that it can cause cancer in humans, sufficient evidence in animals, or strong evidence surrounding its characteristics. By comparison, radiofrequency electromagnetic fields, associated with using mobile phones, is also on the list of possible carcinogens. Our moms can't have anything nice!
But these labels, however squishy, can have big effects. When the IARC determined in 2015 that glyphosate (a widely used herbicide) was "probably carcinogenic," it resulted in major headaches for companies that used it. Bodies like the European Food Safety Authority have even tried to contest the label on certain products, but negative consumer sentiment remains. Bayer has lost three appeals against U.S. court verdicts that awarded damages to customers attributing their cancers with use of Bayer's glyphosate-based weed killers.
The number-one product everyone thinks of when they hear "aspartame," though, is diet soda. Will there be a ceasefire in the Cola Wars so these brands can battle lawsuits instead of each other?
What food and beverage companies are saying
Reuters reports that the International Sweeteners Association (an amazing barbershop quartet name!!) has wasted no time clapping back (more like the International Spicy Association, amirite?). The organization said the IARC is "not a food safety body" and said the review of aspartame "is not scientifically comprehensive."
The main concern for the International Sweeteners Association, whose members include major players in the food and beverage sphere, is that the new label might mislead consumers and make them think the product is unsafe. The industry already has its qualms with the WHO after the latter published guidelines last month advising consumers not to use non-sugar sweeteners for weight control.
Back here at home, the FDA has set acceptable daily limits for aspartame: An adult weighing 150 pounds would need to ingest more than 18 cans of zero-sugar soda per day to reach levels the FDA links to severe negative health outcomes. Thus, your silver Diet Coke cans aren't at risk of disappearing from grocery store shelves or carrying scary warning labels anytime soon. If anything, the WHO's potential new label for aspartame is just the latest development in a long saga of new research and raised eyebrows.