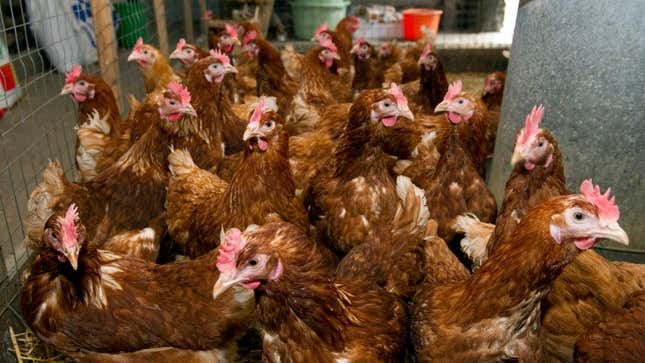 It is written in the Book of Chicken Revelation: "The sons of the kingdom will be thrown into the outer darkness, and in that place there will be weeping and gnashing of teeth." And that place, my feathered friends, is Del Taco. The fast food brand just announced that it's releasing not one, but eight new crispy chicken entrees this summer, in a move that is sure to terrify chickens everywhere. The press release says:
As opposed to many quick service brands attempting to compete in the Crispy Chicken Wars by offering only one or two Crispy Chicken Sandwiches, Del Taco will be fielding four Crispy Chicken Tacos, three Epic Crispy Chicken Burritos, and a 3 Piece Crispy Chicken & Fries Box with choice of various sauces.
Dr. Pepper Strawberries & Cream Is Tearing Us Apart
That's a lot of dead chickens, y'all. Fortunately, they appear to be dying for a good cause: flavor. The menu sounds pretty good, with $1 Crispy Chicken Tacos, a $4 three-piece Crispy Chicken & Fries Box, and something called an Epic Crispy Chicken Burrito, available in a few different variations. Personally, I'm drawn to the Honey Mango Crispy Chicken & Bacon Burrito, which the brand writes is "loaded with three crispy chicken strips, crispy bacon, famous Crinkle Cut fries, freshly grated cheddar cheese, cool sour cream, and honey mango sauce wrapped in a warm, oversized flour tortilla." Crinkle cut fries in a burrito? This pleases me.
We knew the Chicken Sandwich Wars would get bloody, but Del Taco's foray into the battle will likely lead to mass casualties. Let's have a brief moment of silent for these heroic fowl, who made the ultimate sacrifice in pursuit of a better, crispier world. Looks like fried chicken fans will be positively spoiled for choice this summer.