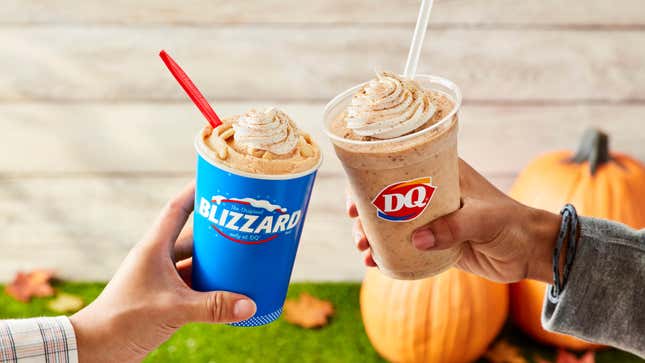 We're already through the beginning of August (jeez), and it seems like I can hear people starting to whisper about pulling sweaters out of the closet. Stop! I'm still enjoying the hell out of summer! I am not ready to start thinking about Halloween, either. Dairy Queen clearly doesn't give a crap about what I think, because the chain's ready to whip out the pumpkin shit at the end of the month.
Starting August 30, DQ is bringing back its Pumpkin Pie Blizzard, which has pumpkin pie bits mixed into vanilla soft serve and is finished with whipped topping and a nutmeg sprinkle. I'm sure some of you are freaking out right now (but I'm sure there's many ambivalent people, too). There'll also be a Pumpkin Cookie Butter milkshake, which is a combination of pumpkin puree, cinnamon-spiced cookie butter, vanilla soft serve, and milk, topped with whipped topping and nutmeg. Standard issue stuff for the die-hard pumpkin fans.
Recently, we took an educated guess on when Starbucks will be releasing pumpkin-spiced hell. Staff writer Lillian Stone is surmising September 1, which means Dairy Queen might actually beat Starbucks to the punch (if my colleague's guess works out). Based off the fact that Starbucks released pumpkin spice stuff on August 25 last year, this is a perfectly reasonable guess, especially because September feels way more autumnal to me anyway. I realize it'll still be summery out, but I think it's just about seeing that calendar page turn, you know?
Do you think August 30 is too early? Is there a proper date on which PSL stuff should start sneaking onto shelves? I feel like this is a spiritual question that you should reflect upon deep within your very soul. Sit there, feel the world vibrate around you, and when you think the time is right, that's when pumpkin spice should naturally crawl back out into the world. My gut says August will take some of the shine off, but maybe that's just me.