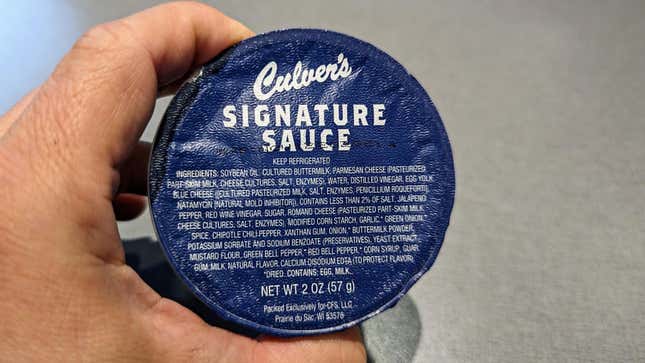 As a Midwestern boy, my love for Culver's knows no bounds. It's easily my favorite fast food burger chain, but the rest of its menu shines, too. The ButterBurgers are always solid, the fried fish sandwich is our absolute favorite, and the frozen custard is world-class. That's why when I found out that Culver's recently added a brand new permanent Signature Sauce to its menu, I found myself scratching my head.
How To Dispose Of Cooking Grease The Easy Way After Frying
With practically everything on the menu being so good already—okay, maybe aside from the crinkle-cut fries—I questioned the need to add a new signature item. It seems to suggest that everything could use a little pick-me-up.
Granted, this is just a new condiment, not a whole menu shakeup, but calling it Culver's new "signature" flavor is a bold move. Is this new sauce worthy of the moniker? Does Culver's really need a signature sauce?
What is Culver's Signature Sauce?
More than a few fast food chains stake their identities on their sauce selections. McDonald's has its Big Mac sauce, Raising Cane's dipping sauce is among the most crave-worthy I've ever had, and Arby's Horsey Sauce deserves distinction. All three of these sauces have a common element: perhaps unsurprisingly, it's mayo.
Culver's new Signature Sauce is also mayo-based (the soybean oil and egg yolk in the ingredients is the tell), but it's markedly different in a few ways. The second most prominent component in its ingredient list is buttermilk, which signals a similarity to ranch dressing. But the main flavoring agent is what's most interesting. Would anyone have guessed that it's Parmesan cheese?
What does Culver's Signature Sauce taste like?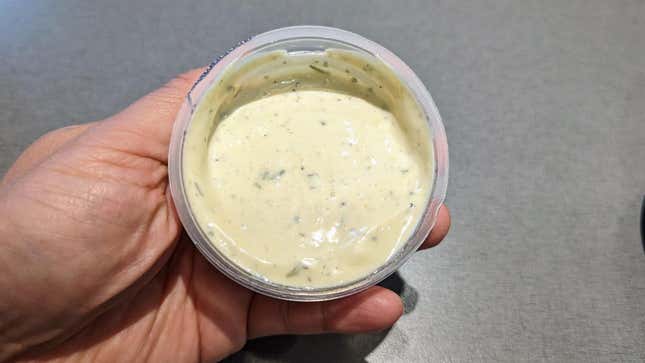 The sauce comes in pre-packaged 2-oz. tubs (indicating, of course, that it's not made on site), and it does indeed look like ranch dressing. It's creamy and flecked with herbs, a slight off-white color.
I asked the cashier which menu items he likes to pair with the Signature Sauce, and he told me he's a fan of dipping fries, cheese curds, and chicken tenders into it.
I gave it a test drive on some fries first. The sauce is fluffy, not too thick, and the Parmesan hits you first, just before the herbs and spices come into play. The supporting cast is jalapeño pepper, Romano cheese, garlic, green onion, chipotle pepper, onion, mustard powder, and both green and red bell peppers. (No, I'm not a super-taster—I cribbed that from the ingredients list on the foil lid.)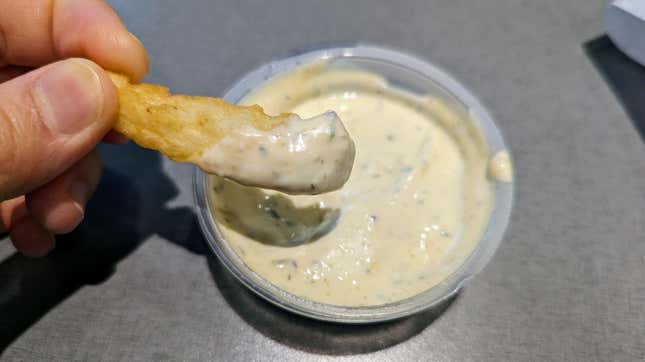 Despite the presence of multiple peppers, there's no kick to it. You mostly get the Parmesan cheese right away, along with a slightly garlicky and onion aftertaste. It plays heavily into the umami flavors of Parmesan, with blue cheese as an accenting player. Despite the lack of peppery flavors, it's pretty damn good.
I dipped some cheese curds into it too, and I'm happy to report that this combination works just as well. I'd call this a close cousin to both ranch and Caesar dressing, heavy on the Parmesan flavor.
Culver's menu works just fine without the sauce
Even though the new Signature Sauce is great, I don't think it's something I would consider a defining moment for Culver's. The brand executes the rest of its food so well that this new condiment is little more than a feather in its cap.
Still, it's a fun addition, and the fact that it's a cheese-flavored sauce isn't lost on me, considering the whole place is really a love letter to dairy—a Midwestern brand through and through.
You do not need to run out to Culver's just to get a taste of the new Signature Sauce. But it's nice to have a creamy option that's not ranch dressing for once, and it fits perfectly into Culver's repertoire.