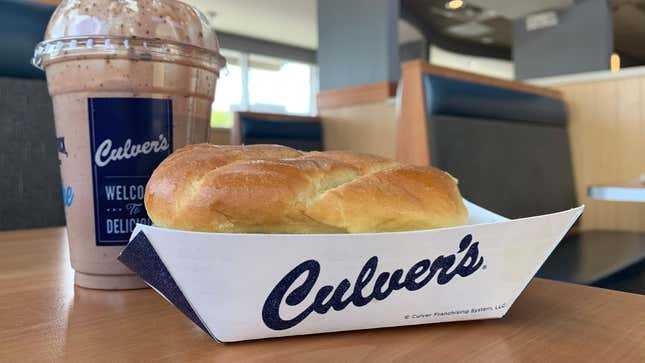 Fast casual restaurant chain Culver's is known for its frozen custard and ButterBurgers, of which we are unabashed fans. But being from Wisconsin, the brand is also beloved for its very particular Midwestern appeal—the emphasis on dairy products, particularly its cheese curds, should give you a good idea of what it's all about. Fans' love for the chain, it turns out, is only growing. A recent report by intelligence firm Placer.ai notes that not only is Culver's doing well in terms of foot traffic (compared to both peak pandemic and pre-pandemic levels), but the restaurant continues to expand its footprint, particularly in the South.
Dr. Pepper Strawberries & Cream Is Tearing Us Apart
Culver's is no longer just the Midwest darling I've always known it to be. Floridians already have nearly 100 locations, and there are still more storefronts opening up in the central area of the state. There's been a years-long push by Culver's to grow in Florida, but the chain is continuing to make headway by opening new spots at a healthy clip.
Georgia is also a big fan of ButterBurgers. Culver's even came in second in a ranking of the state's favorite burger chains in 2022 (first place went to Five Guys). On the strength of the Georgia marketplace, Placer.ai notes Culver's would be a great restaurant to franchise in that state, naming the restaurant chain one to watch in 2023.
Just for fun, try taking the Culver's locations quiz on the company website, which shows various store designs and has the player guess which city and state they're in. Aside from being a fun, dumb way to waste time, it might instill an appreciation for how much this restaurant has expanded beyond its Midwestern roots.
There are now Culver's locations in 26 states (Arkansas got its first one in 2022—good for them!), so a significant portion of the country currently has access to curds, burgers, and CurderBurgers. We've found that the appeal of Midwestern food is quietly starting to spread across the country, which makes perfect sense to us. After all, there's nothing a little extra butter doesn't make better.