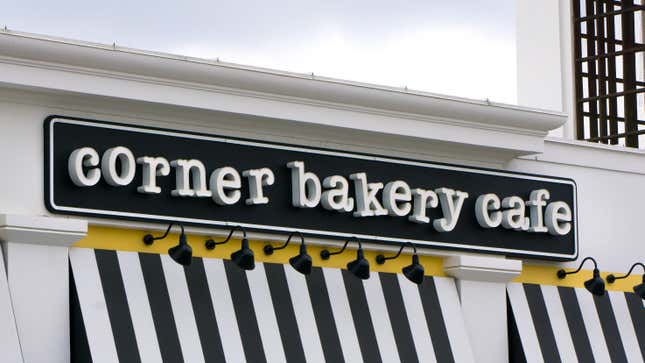 After a rough start to the year, things might be looking up for Corner Bakery Cafe. The fast casual chain filed for bankruptcy in late February after years of quiet decline, but it seems as though its story isn't over yet: a new company has swooped in to purchase what's left of the struggling brand for a surprisingly low sum. Restaurant Business has the story.
How To Dispose Of Cooking Grease The Easy Way After Frying
Corner Bakery's post-bankruptcy purchase, explained
The company that has come for Corner Bakery at the low point of its current financial predicament is called SSCP Management, the owner of upscale Hawaiian-Japanese fusion chain Roy's, co-owner of pizza buffet chain Cici's, and a large franchisee of many Sonic and Applebee's locations.
The company managed to scoop up Corner Bakery for $15 million, along with taking on some of its liabilities. At the end of February, Corner Bakery was reportedly $20 to $24 million in debt, and as Restaurant Business reports, "SSCP had acquired the company's debt on the secondary market and moved to take it over, which prompted Corner Bakery to declare bankruptcy earlier this year." The restaurant chain currently has 138 units, having closed roughly one-quarter of its locations since 2018.
SSCP has employed this strategy before, working with Gala Capital to purchase Cici's Pizza in 2021 and assume the restaurants $83 million worth of debt. Since then, Cici's outlook is improving, company president told Franchise Times in February.
Since SSCP has some experience under its belt managing chain properties, it's not unreasonable to expect Corner Bakery's woes to level off at some point; its restaurants might also continue to bounce back from years of COVID downturn, which continues to plague restaurants of all sizes.
Corner Bakery, for anyone who has forgotten over the years, is similar to Panera in its menu offerings: breakfast wraps, salads, paninis, soup, yogurt parfaits, that kind of thing. Its focus is primarily breakfast and lunch, with most locations closing around 3 p.m. each day. In a previous office job, I used to order the chopped salad once a week, always with extra avocado. Even if you don't live or work too close to a Corner Bakery, there's a good chance you've had its catering before. And now it sounds as though we'll all have the chance to keep those salad orders rolling into the future.