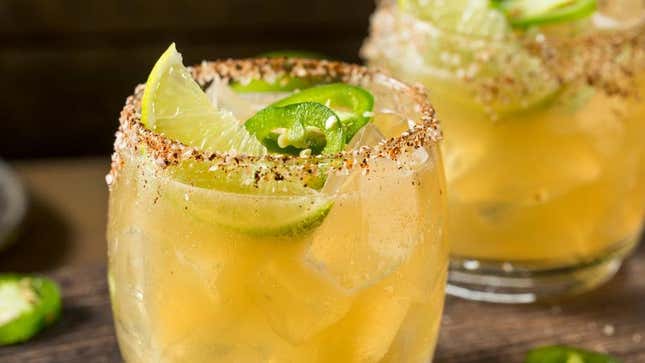 Cinco de Mayo isn't just about chowing down on chips and guacamole, but why pass up a good deal when it's offered? Whether you're looking for fast food or a sit-down restaurant, these chains have Cinco de Mayo specials to enjoy. Here's a selection of what's on offer this Friday:

Dr. Pepper Strawberries & Cream Is Tearing Us Apart
7-Eleven: For a quick celebration of the holiday on-the-go, you can stop by 7-Eleven (also Speedway or Stripes locations) and grab 10 mini tacos for $2. You have to be a 7Rewards or a Speedway Speedy Rewards member to cash in on the deal, but the spicy beef, green chillies, jalapeno peppers, and cilantro stuffed into these tiny tacos might be enticing enough to get you to sign up.
Applebee's: Even if you miss the main fiesta on May 5, some places, including Applebee's, are carrying their deals through the weekend. Until May 7, you can get a combo of a handcrafted burger, fries, and one fountain drink for a discounted price of $10.99.
BJ's Restaurant & Brewhouse: Why have one margarita when you can have a flight? BJ's is offering a Margarita Flight with four distinct flavors. The brewhouse will also offer Happy Hour deals on May 5 including $6 Brewhouse Margaritas and a discount on its new CureVeza, a seasonal Mexican-style lager.
Buffalo Wild Wings: Most definitely not known for its Mexican cuisine, but never one to miss out on a good time, Buffalo Wild Wings has a number Cinco de Mayo deals. You can take advantage of Happy Hour on Friday and get $3 chips and salsa and $5 Strawberry Margaritas from 3 to 6 p.m. For those who can't get off work early but still want to celebrate, there will be $4 Hatch Chile Queso and $4 chips and guacamole from 9 p.m. to close.
Chipotle: Those interested in a Cinco de Mayo BOGO deal from Chipotle will have to jump through a few hoops. First they need to create an event on the platform Partiful and invite friends who have never tried Chipotle before. Make sure to include #ChipotlePartyPromo in the description, and then invite Chipotle via direct message link on Instagram. Chipotle will RSVP to the first 20 Partiful events sent to its Instagram and will drop one BOGO code per RSVP'd guest (up to 25 BOGO codes per event). If that sounds like way too much work, here's another deal: Customers can get $0 delivery with the promo code CINCO23 on the Chipotle app, Chipotle.com, and Chipotle.ca now through May 5.
Chuy's: This Tex-Mex restaurant chain with 99 locations in 17 states is offering a deal to make your margarita enjoyment a little more affordable. On Friday, May 5, customers can upgrade to a Grande 'Rita for just $2 more (they're usually about $3 more). Choose between the Chuy's House Rocks 'Rita, House Frozen 'Rita (Lime, Strawberry, or Swirl), and the limited-time Tito's Frozen Lemonade. Chuy's is also offering $1 floaters all day, which means an extra pour of tequila or liqueur in your drink.
Del Taco: As a chain known specifically for its Mexican fast food, Del Taco would be remiss to offer a Cinco de Mayo deal. From May 5-7, customers can receive a free burrito with any $10 purchase. Those who order through the Del Taco app will also unlock free delivery.
The Green Turtle: Another restaurant not known for its Mexican fare, but eager to celebrate, is Green Turtle. This chain of sports bars is offering $1 margaritas, as well as $5 Modelos, Coronas, and Cazadores shots. However, these specials are only available at select locations, so be sure to check in advance.
Jack in the Box: Until May 7, you can get a few different deals from Jack in the Box: a breakfast burrito for $3.50, tiny tacos for $3, and two tacos for $0.99. That's one deal for each day of the weekend.
Red Lobster: The seafood chain is offering a $5 Cinco Rita, featuring Sauza Gold tequila, triple sec, and sour and margarita mix, starting on May 5 and continuing the deal for a limited time. It's only available for dine-in customers at participating locations in the U.S. (excluding the Times Square, Hawaii, and Puerto Rico locations).

Round Table Pizza: In case you've always secretly hoped to celebrate Cinco de Mayo with pizza, Round Table is offering a special from May 5-8: $10 off when you order any two large or extra-large pizzas at menu price.
From queso to tequila shots, there are many budget-friendly ways to celebrate Cinco de Mayo this year without cooking anything yourself. Feliz Cinco de Mayo!