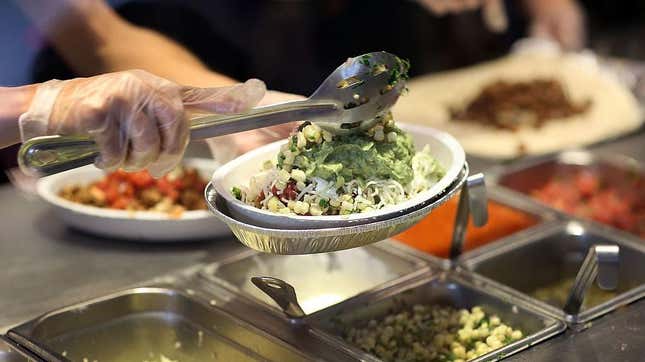 Anecdotally, the job market isn't too hot right now. I know so many people who are looking for work, and beyond already shaky industries like media and tech, even companies like McDonald's are laying off employees. But in an economy full of layoffs and job cuts, Chipotle seems to be singing a different tune.
How To Dispose Of Cooking Grease The Easy Way After Frying
The company issued a press release on January 26 announcing its intent to hire 15,000 people over the next few months in preparation for "burrito season." If you, like me, were unaware that there was such a thing, allow me to explain. According to Chipotle, its busiest season runs from March to May each year. Perhaps the buildup to Cinco de Mayo means everyone has burritos on the brain. Or maybe people coming out of winter hibernation are ready to Live Más? Wait, wrong slogan. Either way, Chipotle is on a hiring spree, and it's enlisting current employees to tell you how great it is to work there.
In fact, you might have already seen some television spots featuring Chipotle employees gushing over the company's products.
"We don't have freezers," Texas crew member Christina convincingly proclaims in her 15-second spot. "It's definitely real food."
Chipotle's upcoming campaign, which will run in tandem with the existing one, will highlight the cashier-to-manager pipeline, showcasing the chain's commitment to upward mobility. According to the press release, 90% of the company's management hires are internal promotions. More than three-quarters of the hires for vague-sounding positions like "Team Director" and "Field Leader" are from within as well.
"Working at Chipotle over the past nine years and learning from its restaurant leaders has changed my life," said Washington DC—based training manager Nakeysha Clark in the press release. Well hey, I could use a life change. Maybe I'll apply.
While there is room to work your way up from the service line, don't expect to get any raises while you're still slinging guacamole. Chipotle is one of the fast food giants that has lobbied against a new California law that advocates for fast food workers. The law, which was signed last year, would establish a council on behalf of fast food employees and allow them to implement big changes—among them, a $22 hourly minimum wage. Chipotle, along with McDonald's, Starbucks, Chick-fil-A, In-N-Out Burger, and Yum! Brands, each donated $1 million to Save Local Restaurants, a coalition fighting to block the law from taking effect.
Chipotle also has a history of union-busting, closing a location in Maine that tried to unionize last year. A location in Michigan did successfully unionize last August, but the company spoke out against it, saying in a statement obtained by CNN Business that it was "disappointed" by the outcome. At the same time, Chipotle boasts "best-in-class benefits" for employees, including bonuses, mental health care, and free meals—though it's unclear if guac is included.
In addition to staffing up a rapidly increasing number of locations, maybe Chipotle is announcing this hiring spree to dispel the notion that it doesn't care about its workers. Regardless, if my hunt for full-time employment continues the way it's been going, perhaps you'll see me behind the grill.