As one of the largest fast food chains in the world, McDonald's obviously isn't going anywhere anytime soon—it's hard to travel anywhere on earth without spotting the golden arches looming like a beacon to anyone who needs to grab a burger in under five minutes. Nonetheless, it was a bit surprising last week when McDonald's CEO Chris Kempczinski announced to employees that the fast food giant would be cutting jobs. CNBC reports that these layoffs are not a measure of cost-cutting or downsizing, but rather of reorganization and shifting resources.
"Today, we're divided into silos with a center, segments, and markets," Kempczinski wrote in a companywide memo obtained by CNBC. "This approach is outdated and self-limiting – we are trying to solve the same problems multiple times, aren't always sharing ideas and can be slow to innovate."
The proposed layoffs and reorganization will all be designed with one goal in mind: expansion! Of course. McDonald's will be damned if it lets Burger King or Wendy's—or, God forbid, Chick-fil-A—take its spot as the most iconic American fast food institution. And according to Kempczinski, consumers want McDonald's more than they ever have before.
"We must accelerate the pace of our restaurant openings to fully capture the increased demand we've driven over the past few years," he wrote.
How McDonald's plans to expand
The company calls the plan Accelerating the Arches 2.0, and it's laid out on the McDonald's corporate website. As far as strategy, the brand plans to focus on what it calls the four "D"s: digital, delivery, drive-thru, and restaurant development. It's all about future-proofing by leaning into digital and delivery sales, which McDonald's claims already makes up one-third of total sales.
G/O Media may get a commission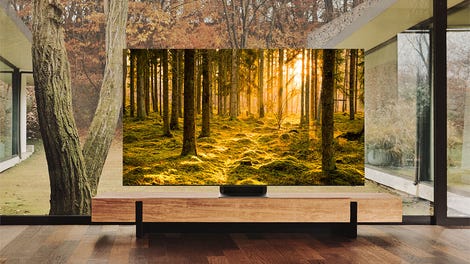 Up to 40% off
Samsung Smart TVs
These changes are largely on display in McDonald's new test location in Fort Worth, Texas. There, a restaurant with a much smaller footprint skips the dining room entirely in favor of takeout, delivery, and drive-thru, with meals being presented via conveyor belt. The McDonald's app even uses GPS to tell the restaurant when you're nearby, which is when employees start preparing your order.
At my local McDonald's, located right on the border of Queens and Brooklyn, digital and delivery are the name of the game, too, though the customer experience suffers a bit as a result. Employees are so busy filling the constant stream of delivery bags that it's harder to take a customer's order in person, and fulfilling delivery orders seems to take priority over those placed in-store. In 2021, several fast food employees told Modern Retail that online orders—which are often much larger than in-person orders, too—are beginning to overwhelm the system.
So perhaps having more small-format stores, rather than larger hubs, will help alleviate the burden. The company's internal personnel moves, which aim to speed up innovation, all point to a shift in how we access fast food.