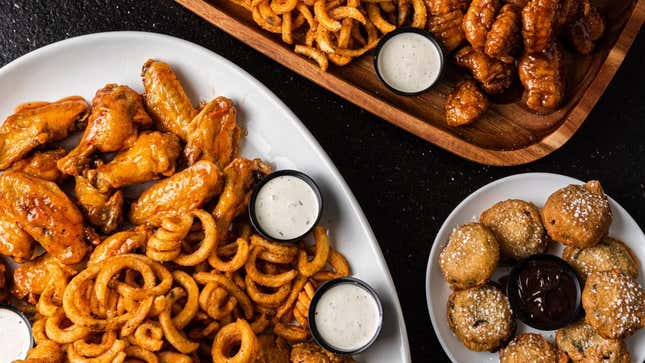 Virtual restaurants are so named because their storefronts are purely digital. Customers access digital kitchens' real-life food by ordering via third-party delivery app (such as DoorDash or Uber Eats), and the only human interaction involved is between the customer and the driver who hands off the order. If the driver is instructed to leave the bag on the doorstep, there's no contact at all.
How To Dispose Of Cooking Grease The Easy Way After Frying
Because they don't have dedicated brick-and-mortar locations or any foot traffic to speak of, virtual kitchens can be situated almost anywhere. And that includes inside existing restaurants that might want to make extra money from a digital-only concept. For example, if you've ever seen Cosmic Wings listed on food delivery apps, well, that one belongs to Applebee's.
Chili's, too, has its own virtual brand called It's Just Wings—but Chili's is taking the unusual step of yanking its digital restaurant out of the virtual realm and bringing it to our real-life one.
Why Chili's is bringing It's Just Wings to life
Restaurant Business reports that Chili's is in the process of integrating It's Just Wings into its brick-and-mortar restaurants. The It's Just Wings lineup of six flavors of traditional and boneless wings with 12 dipping sauces will have its own place on Chili's bar menu. It's even going to have its own dedicated page of the menu, and the timing of the rollout is intentionally aligned with football season. (Who could have guessed?)
This move is interesting in a few ways. First, most large restaurant chains with virtual kitchens aren't always transparent about the connection between the two, to the dismay of some customers. It's hard not to feel duped when you think you've stumbled upon a new local gem, only to find out it's just an additional revenue stream for a corporate brand whose food you wouldn't otherwise order.
What used to be a quiet (if not concealed) part of Chili's operation will now be an explicit part of the Chili's experience. And why not? It's not like Chili's has to change anything about the way it operates in order to take advantage of this promotional moment; instead, it's just pulling back the curtain that previously obscured its virtual brand. It makes sense on all fronts: Chili's already has the infrastructure of 1,130 locations, so in effect it can instantly open up 1,130 It's Just Wings locations for customers to experience in person.
Then there's the rest of the bar menu. Chili's will still sell its own food and drink alongside It's Just Wings items, with plenty of offerings for anyone who wants to chill over drinks and yell at TVs. Everyone loves wings—does it really matter which kitchen they come out of?