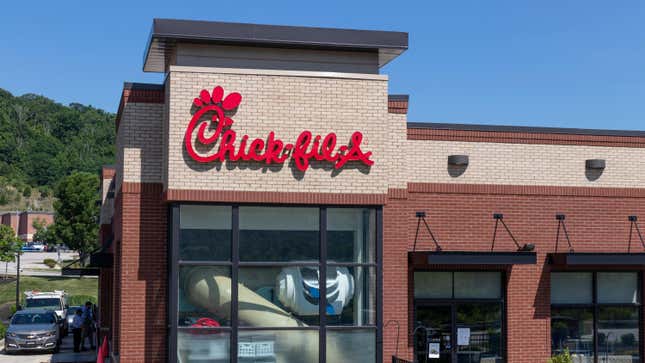 Update, March 31, 2023: In an unusual turn of events, Chick-fil-A has decided to keep its side salad after announcing its removal from the menu just last week. This type of culinary 180 doesn't happen often with biggest fast food chains, so we're guessing that Chick-fil-A heard quite an earful about removing one of the few leafy green items it serves.
Dr. Pepper Strawberries & Cream Is Tearing Us Apart
"At Chick-fil-A, our guests come first," Chick-fil-A wrote in a statement sent to The Takeout. "Based on feedback, we have decided not to proceed with removing our Side Salad from the menu. We will continue serving the item at participating restaurant locations and hope customers continue to enjoy this menu offering."
This is just a reminder that even though corporate chains can often seem like silent, faceless monoliths, they're usually listening to customer feedback very, very carefully. Apparently a lot more people were ready to defend that side salad than the company had anticipated, and complaints gave way to compliance.
Congrats to all of you who enjoy pairing mixed greens with one of seven house dressings—this is your victory!
Original post, March 22, 2023: Menu items come, menu items go. This is the circle of life. In what might come as unwelcome news to some fast food fans who love their greens, Chick-fil-A is getting rid of the side salad on its menu. (I wish Chick-fil-A would get rid of all sorts of other things, like its chairman, but that's not up to me.) We first learned of the news via The Daily Meal, and a Chick-fil-A representative has confirmed to The Takeout that the salad is, indeed, going away.

What's in Chick-fil-A's side salad?
Chick-fil-A's side salad is pretty simple: It's just mixed greens sprinkled with shredded cheddar and Monterey Jack cheeses, along with grape tomatoes. It's served alongside some crispy bell peppers and charred tomatoes along with your choice of dressing—impressively, the chain offers seven different salad dressings.
The salad is one of the alternatives to Chick-fil-A's popular waffle fries. Some other non-fried sides include a fruit cup, some soups, and a fruit parfait.
Notably, there are still many salads to be found at Chick-fil-A, even though the side salad is being removed from the menu. The Cobb, the Spicy Southwest, and the Market Salad will all remain on the menu as entrees, and the Kale Crunch side salad (kale and cabbage with vinaigrette and roasted almonds) will still be available, too—more on that in a minute.
When is the side salad at Chick-fil-A being discontinued?
Asked why the side salad was going away, and when exactly it would be gone for good, a spokesperson for Chick-fil-A provided this response via email (emphasis ours):
Serving guests is at the heart of all we do at Chick-fil-A. In order for our Restaurant Team Members to continue to deliver quality food and signature hospitality, at times we have to make difficult decisions to help simplify our menu. Starting April 3, the Chick-fil-A Side Salad will no longer be offered in our U.S. restaurants. We're increasing the size of the Kale Crunch Side on our menu to a large, which may be an alternative for some guests.
April 3 is when the side salad is going away, and instead of having a new item as a replacement, the aforementioned Kale Crunch will simply be upgraded in size from a side to an entree portion. That salad actually sounds pretty good.
As to be expected whenever anything goes away, there have been a few miffed customers out there taking their complaints to social media:
"Y'all I'm so torn up over losing Chick-fil-A's side salad," one Twitter user lamented. "I literally get it every time."
"Why tf would you get rid of the side salad but keep the kale salad?!??!" wrote another Twitter user.
I'm sure the complaints will keep coming through for a while. If I'm eating something fried to begin with, I tend to stay on theme and eat fries as a side. But for those side salad fans who like something fresh to pair with their fried food, they'll have to go with a somewhat more elaborately composed bowl of greens from now on. RIP, Chick-fil-A side salad. We hardly knew ye—well, actually, we never knew ye at all.