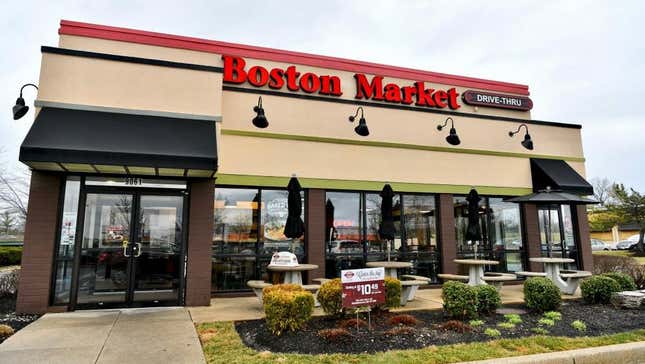 Update, September 13, 2023: After a stop work order forced the chain to temporarily close 27 locations in New Jersey, Boston Market has now been granted permission to resume operations, Restaurant Business reports. The re-openings come a month after the restaurant chain was ordered by a judge to close the locations because of unpaid wages to its staff. The New Jersey Department of Labor told Restaurant Business that the matter "resulted in workers getting the money they were owed."
How To Dispose Of Cooking Grease The Easy Way After Frying
Workers from the 27 Boston Market locations also told the publication they had received their pay and that food deliveries had already resumed at the newly reopened restaurants. Although it will likely be business as usual by the end of the week for these locations, Boston Market should count its blessings. After employees were denied pay by the company for weeks, it was hardly a given that they would return at all.
Original post, August 18, 2023: Much like its rotisserie chicken, Boston Market is being slowly roasted on all sides. The flames of another lawsuit, this time in New Jersey, have turned up the heat for the fast casual chain, and the trouble has led to a string of restaurant closures, The Associated Press reports.
Why Boston Market's New Jersey locations are closing
Boston Market was recently forced to temporarily close 27 of its 31 locations in the state of New Jersey after a stop work order was issued by the Department of Labor. Officials began investigating the chain back in November after an employee of one of the New Jersey locations filed a complaint. After that, nearly three dozen other complaints were filed against various Boston Market restaurants across the state.
The AP reports that state officials found multiple violations of workers' rights, including unpaid or late payment of wages, failure to pay minimum wage, and failure to pay earned sick leave. The investigation also found instances of the chain hindering the investigation and multiple records violations. The Department of Labor is actively monitoring the temporarily closed Boston Market locations to ensure the order is followed, Restaurant Business reports. If the order is violated by conducting business at any of the locations, the restaurant could face civil penalties of $5,000 per day.
In addition to issuing the stop work order, investigators have fined the Boston Market a total of $2.6 million in penalties for what it owes. Labor officials found Boston Market owed $607,471 in back wages to 314 workers, $1.2 million in liquidated damages, $182,241.30 in administrative fees, and another $549,500 in administrative damages. Once the penalties and wages are paid, the temporarily closed restaurants can reopen.
Boston Market's ongoing legal and financial woes
These penalties are not the only ones Boston Market has had to deal with recently. In addition to the closures in New Jersey, the chain is also in the midst of multiple legal battles with vendors and distributors, landlords, and workers in several states across the country, including Massachusetts, Illinois, Texas, and Colorado. Two different distributors claim that Boston Market owes millions of dollars in unpaid bills, and around $300,000 is allegedly owed to a refrigeration company.
Not far from Boston Market's troubles in New Jersey, workers at multiple locations in Massachusetts are also suing the chain for delayed or unpaid wages. And in Colorado, the state's Department of Revenue seized Boston Market's headquarters in order to recoup $328,592 in unpaid sales and payroll taxes. The company is also getting heat from McDonald's, which acts as landlord for two of Boston Market's locations in Massachusetts where the latter company allegedly owes rent.
Boston Market has requested a hearing to challenge the stop work order, but a date has not been set yet. The company is under the broiler now, and it's anyone's guess how the brand will attempt to pull itself off the heat and out from under this growing pile of penalties.