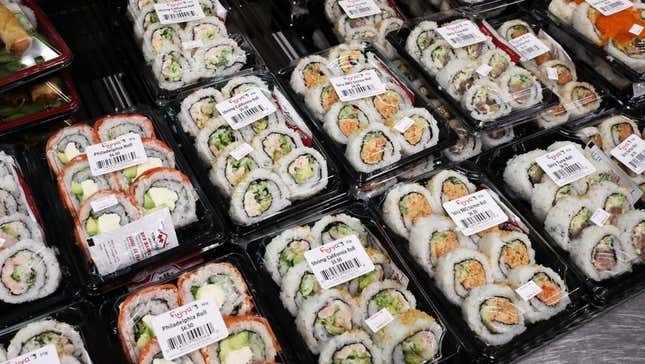 What is your go-to sushi spot? Is it a small, family-owned place in your neighborhood? Or maybe it's a chain restaurant, or a pricier, high-end establishment you like to splurge on. For many Americans, though, the destination for sushi is the same place they purchase their breakfast cereal and fresh produce. Yes, it might surprise most people to learn that Kroger is the nation's leading sushi purveyor.
How To Dispose Of Cooking Grease The Easy Way After Frying
The Wall Street Journal reports that Kroger, one of America's most popular grocery chains in the midst of a highly contested merger, sells more than 40 million pieces of sushi in a typical year. Executives for Kroger also tell WSJ that sushi as one of the fastest-growing parts of the business, with shoppers buying an average of more than 1 million items from the sushi menu every week.
Kroger has around 2,700 locations, and grocery chains such as Dillons, Fred Meyer, and Mariano's are under its ownership; two-thirds of all these stores have a sushi section.
"When customers think of sushi, we want them to think of Kroger," Stuart Aitken, chief merchant and marketing officer for Kroger, told The Wall Street Journal.
How Kroger thinks about its sushi offerings
The chain is strategic in its offerings, and it's using a lot of research to inform the expansion of its sushi category. Kroger varies its sushi menu by region and uses items like combo rolls and boxes to help introduce customers to more sushi options and to gather intel on consumer preferences.
For example, California Kroger stores sell more sushi boxes with fresh sashimi; Ohio locations sell more rolls with imitation crab; and in rural areas where there are fewer sushi options in general, the brand offers a variety of California, classic, spicy, and crunchy rolls. The popularity of its sushi has also allowed Kroger to find success in other sushi-adjacent categories: the chain sold around 2.5 million poke bowls and 1.4 million dumplings last year.
In order to keep its sushi business humming, Kroger also relies on suppliers to help spot trends in the category and provide fresh ingredients for its sushi bars. Snowfox, one of Kroger's suppliers, has franchise owners run sushi bars out of Kroger stores, with around 1,300 of its chefs working at the grocer's locations.

Kroger may be at the top of the sushi food chain, but it's far from the only grocery chain cashing in on rolls. The Wall Street Journal notes that U.S. consumers purchased 43.7 million servings of sushi at grocery stores over the past year. WSJ also cites data from research firm Circana Group indicating that sales volume of sushi sold at U.S. retailers is up more than 50% over the past year, and dollar sales have increased 72%.

Whole Foods, owned by Amazon, similarly plans to expand its sushi offerings to include items such as carrot-curry kimchi rolls and rolls made with crab salad. "Two mainstays in American delis are some form of cooked chicken and sushi," said Jonna Parker, a fresh foods market research expert for Circana, told WSJ.

While diners might not place their local sushi restaurants in the same category as the product sold at the grocery store, Kroger is not shy about its desire to dominate the sushi market on all sides. The aim is to capture the dollars consumers generally budget for dining out and to reel them into the convenience of grocery store sushi—and it's a plan that makes a lot of sense. With easy to-go containers, and options that usually range around $10, it's hard to ignore a ready-made dinner staring you right in the face.