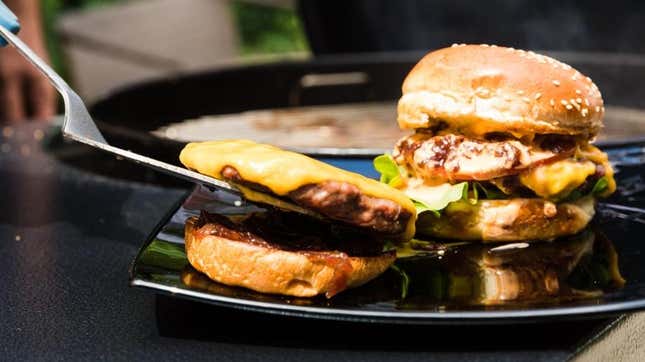 "I tell people I have a pretty great job," says Jimmy Kennedy, professional bass fisherman, restaurateur, and test kitchen chef at Cabot Creamery. "Getting to work with the cheese and the butter and the yogurt, it's easy. It really is."
Dr. Pepper Strawberries & Cream Is Tearing Us Apart
For years, Kennedy has worked as a spokesperson for Cabot, a farmer-owned cooperative whose cheddar and other dairy products are sold nationwide. Though he now experiments with the best uses for cheese in a professional capacity, that curiosity was born of necessity some 30 years ago, when he had a crash course in restaurant cookery.

"I moved to Vermont and decided to open a restaurant, and I wasn't going to cook," Kennedy tells The Takeout. "We had someone scheduled and they didn't show up the first day, and I've been cooking ever since—I had to fill that void." 
"I didn't think anybody would come back after that first day, it was so bad," he adds, laughing. "I've learned."
In his time at Cabot, Kennedy has learned a lot about how to make cheese the centerpiece of any spread. With summer grilling season upon us, we asked Kennedy to illuminate some unique uses for cheese at any backyard barbecue—because who among us isn't looking for an excuse to consume more of it? We should all heed this expert advice.
Combine different cheeses
"Mixing and matching when you're grilling works really well," Kennedy explains, tossing out Cabot varieties as an example of how to do it. "A lot of people like a little spice, so the Habanero is great, or the Pepper Jack. If you were even to put the cracker-cut slices on there, because they're smaller, [you could combine] maybe one Seriously Sharp and one Habanero, it gives you a different flavor profile for each different bite of the burger, or chicken, or whatever it is."
On a big burger, you might even have room to layer three or four cracker-sized slices of cheese in place of one larger slice, creating a patchwork of different flavors and heat levels—bonus points for getting the cheese nice and melty on top of whatever you're grilling.
Go with soft, creamy cheese, not just slices
When Kennedy, who's from Mississippi, first suggested pimento cheese to Cabot, he says the company was hesitant, being unfamiliar with the product back in the early '00s when it was still a fairly regional specialty. Now, though, it's more widely known to be a crowdpleaser—and it has lots of uses at cookouts.
"Using pimento cheese on hamburgers or anything you grill is just great," he says. "It's already got the cheese, plus extra flavor. I put it on right at the end. You don't want to melt it a lot. It's great to have at a barbecue, and it's great for kids, because if they don't want a big burger, they can just have a pimento cheese sandwich, too."
Cabot has a recipe for the stuff, and so does The Takeout.
Pair cheese and butter
Maybe you already know all about how easy it is to make rich, complex compound butter simply by mixing any number of herbs or other flavorings with quality butter. But Kennedy highlights two intriguing points: that compound butter can involve cheese, and that it's the ideal topping for whatever you're grilling.
"What I'll usually do is use Garlic Herb cheese and the Alpine, maybe even the Horseradish, and you just shred that up, mix that into softened butter, roll it up like a tube, and wrap it," he says. Once it has set up in the fridge, you can slice off rounds to top steaks, chicken, burgers, or anything else that could use a rich, melty boost of dairy. Doing this right before serving creates a highly photogenic dish, and Kennedy points out that it's an easy way to "fancy up" a backyard barbecue.
Cater to the vegetarians, too
As a test kitchen chef, Kennedy has developed a versatile dish using something you might otherwise toss in the trash as you prep for your cookout: corn husks. "I don't even know if I have a name for this thing," he notes.
Here's what to do: Break the corn cob out of the husk, clean off the husk, and put the husk in water briefly so it saturates. Cut the corn off the cob, and place it in the husk along with either beef, chicken, fish, or veggies, plus cheddar cheese. Wrap it all up and grill it; the result is a steamy, sizzling package you can unwrap on a plate and eat straight from the husk.
"It's a really cool way of cooking just about anything on the grill, and the flavor's fantastic," Kennedy says, noting that it's a nice way to cater to vegetarians so that they "don't always get the black bean burger or the portobello." Even if you don't go the corn husk route, make sure your non-meat-eating guests have an opportunity to eat something flavorful and indulgent, too.
Cheddar... s'mores?!
Yep, cheddar s'mores. Kennedy, who developed the recipe, notes that while the combination might sound odd, a graham cracker topped with marshmallow, chocolate, and cheddar tastes like a rich bite of cheesecake. The official recipe can be found here.
It's a divisive recipe—"people either love it or hate it," Kennedy says—but when he debuted the concoction at a boat show in Rhode Island, hundreds of people lined up just to taste it. Even if some of the guests at your cookout don't like the sound of it, everyone will at least be curious about it. Best case scenario, you look like a culinary genius.