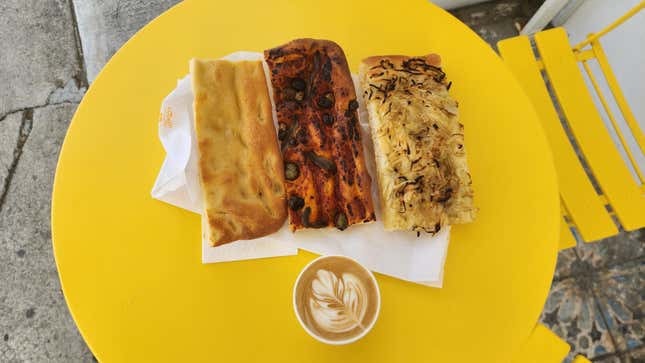 No disrespect to egg sandwiches, diner plates, flapjacks, doughnuts, and croissants, but American breakfast often feels too linear—and the only exception to that rule seems to be Los Angeles. Just peep what's available in L.A. by 9 a.m.: flaky Armenian pastries, herby manakish slick with oil, piping hot pho, full spread Turkish kahvalti, eclectic Japanese breakfast, and tacos with bitter nopales. And there's another early morning outlier to add to that exciting list: Genovese-style focaccia dipped in cappuccino, a combination proudly served at Ceci's Gastronomia in Silverlake.

How To Dispose Of Cooking Grease The Easy Way After Frying
Focaccia and cappuccino, explained
Depending on your disposition, oily bread dunked into coffee might sound objectionable or it might sound thrilling. It's easy to understand the former; we're not talking about the familiarity of crumbly biscotti or a sweet, spongy cake doughnut to be dipped into your dark roast. This is oleaginous, crusty, salty focaccia, the type of leavened bread perfectly suited to sandwiches (which Ceci's also serves, called focaccina). This thin style of focaccia folded and dipped in cappuccino creates a landscape of bitter, savory, and fatty flavors that amount to a singular breakfast experience. In short, it's the type of thing you should chase down if you're feeling a sluggish monotony in your morning routine.
But in order to accept this nonnative breakfast tradition, you must think past American focaccia, which is typically thick, doughy, and cake-like. The type of the focaccia served at Ceci's is specifically Genovese style—thin and crusty, but also littered with small pockets of soft, pillowy dough. Simply made with all-purpose flour, extra virgin olive oil, sea salt, filtered water, and barley malt syrup, the focaccia at Ceci's is a three-day process with long periods of both cold and hot fermentation, resulting in excellent flavor and texture.
"It must be thin," says chef and owner Francesco Lucatorto. "1.5 centimeters. Roughly half an inch. It must be salty, oily. Ours would even be considered on the thicker side." That last part he says with a smile, indicating that not only is the focaccia in Genoa typically thinner than what he serves at Ceci's, but also that there might be some Italian focaccia police out there keeping a watchful eye.
Both Lucatorto and his wife and business partner, Francesca Pistorio, are natives of Genoa, Italy. Genoa is a port city and the capital of the Liguria region, where focaccia and cappuccino are inseparable in the morning. There, they start you on bread and coffee when you're young.
"I was drinking cappuccino at five," says Lucatorto. "Before that, when you're younger, you start dipping your focaccia in steamed milk. Then your mom gives you the foam from the cappuccino. When you're a teenager? That's your breakfast before you go to school. Focaccia and cappuccino."
The Genovese gravitate toward focaccia and cappuccino for its combination of bitterness (from the coffee) and salt (from the bread). Pistorio tells me that she orders a sweet cappuccino to balance out the salinity with some sugar. I gravitate toward the combination for its decadent tandem of rich olive oil and creamy foam. There are multiple flavor profiles here, a little something for everybody.
There are few places in the U.S. to get such an experience besides Ceci's. It's rare for any restaurant to be open at eight in the morning, let alone an establishment with such deep conviction about regional Italian food. But Ceci's is decidedly a gastronomia—that is, a cozy, market-like cafe specializing in all-day food. Sunny, inviting, and snug, it's the type of charming Italian eatery you find regularly in Italy, but one that's rare in Los Angeles and even rarer in most U.S. cities. Ceci's also doesn't get the annoying coffee crowd, which means you can get your cappuccino with focaccia lickety split, no waiting in a long line.
Since Ceci's entire menu is available starting at 8 a.m, one could conceivably order a lasagna just past the crack of dawn. And people do.
"The record is 8:30," says Pistorio, "8:30 for both lasagna and the meatball sandwich." Leave your stuffy rules for breakfast at the door—chow down on a meatball focaccina in morning traffic, bring lasagna to your office coworkers, and dip your bread in cappuccino before you head out. There is no concept of what breakfast is "supposed" to be at Ceci's. As soon as the doors open, everything is fair game.
The wide variety of Genovese focaccia
There are many different types of Genovese focaccia on offer at Ceci's, including a cipolla variety made with caramelized onions that's sweet and bitey, and a simple pomodoro with fresh tomatoes. Then there's the pissalandrea, a wicked focaccia adorned with oil-packed anchovies, castelvetrano olives, taggiasca olives from Liguria, and tomato sauce. The pissalandrea is decidedly not made for dunking into cappuccino, but it is fantastically pungent, and it is my other personal breakfast food of choice. The anchovies and olives slap me around then pour cold water on my face, something a bagel could never do.
Occasionally, if you're lucky, Lucatorto will serve focaccia tipo Recco, an all-too-rare unleavened focaccia bread made with Manitoba flour and stuffed with stretchy stracchino cheese. If you see the focaccia tipo Recco announced on Ceci's Instagram page, you'll want to pounce on it. This is another focaccia not to be dipped into cappuccino, though the cipolla often is dunked, onions and all.
"I do it," says Lucatorto about the onion focaccia. "Many Genovese do." If you want the full Genovese experience in L.A., give the cipolla and cappuccino a chance. The sweetness of the onions works surprisingly well with coffee.
Once you know the joys of focaccia dipped into creamy espresso, familiar breakfast items start to feel excessive. Strip me down to my basic human needs, and all I require first thing in the morning are carbs and coffee. Really, what else do you need to get the day started beyond bread and drugs (caffeine)?