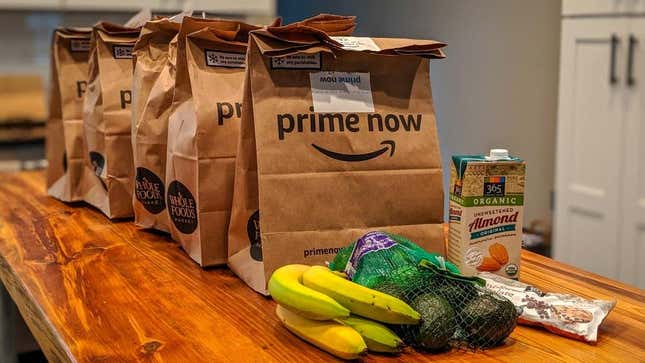 No, it's not Black Friday, it's not Cyber Monday—it's even more made-up than that. It's officially the start of Amazon Prime Day, July 11-12, and the deals have no doubt already infiltrated your social media feeds and email inboxes alike.
How To Dispose Of Cooking Grease The Easy Way After Frying
Yet while the biggest deals highlight things like apparel, electronics, and household decor items everyone wants but no one needs, what about your something much more pressing—that is, your groceries for the week? Prime Day isn't just about the shiny new things you can buy. Amazon has extended the list of deals to the grocery aisle, and there are a number of ways to take advantage.

Amazon Fresh Prime Deals
Whether you find the tech-heavy shopping experience of an Amazon Fresh store appealing or you prefer a more straightforward shopping trip, Amazon is designing deals aimed at both types of shopper.
For in-store shoppers, Amazon Fresh is offering Prime members 25% off when they spend $50 or more. Prime Visa cardholders will also earn 6% cash back when using their card at Amazon Fresh locations (card members normally earn 5% the rest of the year).
Amazon Fresh is also offering Prime members up to $40 savings on grocery delivery, which is significant considering the chain recently upped its delivery fees. Prime members get $20 off an Amazon Fresh order of $100 or more on Prime Day. Members will also get $20 off their next $100+ order from August 1-31, but only if they redeem the first offer. Amazon Fresh online shoppers should use the code "FRESHSAVE20" at checkout to redeem the offer.
Amazon Go Prime Deals
Amazon Go, the convenience store chain equipped with Just Walk Out technology (aka no checkout lanes), is also part of the Prime Day deals rollout.
Prime members who spend $10 at an Amazon Go store will earn $5 to spend on their next visit. The deal can only be redeemed once per account, and the payment method has to be either through the Amazon Shopping app, a linked credit card, or Amazon One at the gates. Amazon also notes that alcohol is excluded from the promotion and taxes do not apply when determining the $10 minimum.
Whole Foods Market Prime Day Deals
Since Amazon owns Whole Foods Market, those patrons will also encounter Prime Day deals on July 11 and 12. Some of the grocery discounts include:
35% off ice cream and frozen desserts until July 18
Two for $7 organic strawberries until July 18
25% off all hot dogs in the meat department until July 18
$11.69 per pound on sustainable wild caught sockeye salmon until July 18
If you have an Amazon Prime Visa card and use it to pay, you'll earn 6% back on Prime Days instead of the typical 5%.
The Prime Day hoopla machine can feel a lot longer than two days, but at least anyone who takes advantage will have a lighter grocery bill because of it.