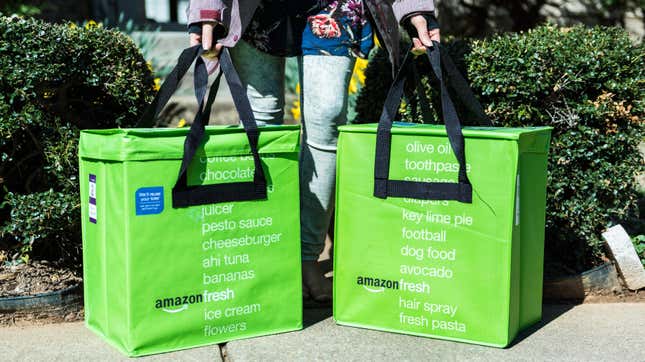 We've all been there: Your online shopping cart has $68 worth of product in it, but the coupon says you need to spend $75 to earn free shipping. Do you tack on more items, or do you take the shipping fee? Based on a recent price hike, it sounds like Amazon Fresh customers will face this dilemma on a regular basis. Grocery Dive reports Amazon has more than quadrupled the price at which Amazon Prime customers qualify to receive free delivery on their grocery orders.
We Rank Three New Grillo's Pickles Flavors
What is Amazon's new grocery delivery fee?
This is not some gradual increase over time. Amazon recently emailed its Prime customers to inform them that beginning on February 28 the delivery fee for Amazon Fresh grocery orders will be:
Orders under $50: $9.95 fee
Orders $50 to $100: $6.95 fee
Orders $100 to $150: $3.95 fee
Previously, any orders over $35 earned free delivery, so this price hike is more than significant. A nearly $10 shipping fee on an order of $35 might push some shoppers to add more to their cart to decrease the fee, but is it really worth it when the next tier only decreases fees by $4 and your cart total is now over $50?
Covering costs like these are part of the reason consumers are moving away from grocery delivery as their default option. A recent survey from YouGov, an online consumer research and data firm, found that 60% of people prefer to buy groceries in person rather than online.
Why did Amazon Fresh change its delivery fee structure?
"We're introducing a service fee on some Amazon Fresh delivery orders to help keep prices low in our online and physical grocery stores as we better cover grocery delivery costs and continue to enable offering a consistent, fast, and high-quality delivery experience," Amazon told Grocery Dive via email.
G/O Media may get a commission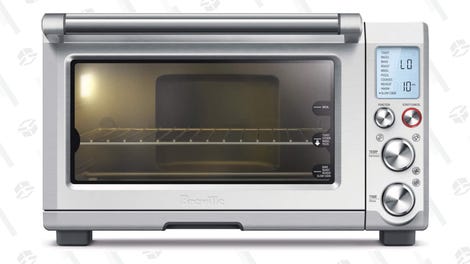 36% Off
Breville Smart Oven
In essence, even if inflation is to blame for these price hikes (and not Amazon's push to maintain profit margins in a post-pandemic ecommerce downturn, as many suspect), is this a choice most Amazon Fresh customers are willing to make? If actual grocery staples like eggs are hitting insane prices, a shopper looking to cut costs isn't going to want to pay a 25% fee on a grocery purchase of $40.
Many consumers have also expressed that in this post-pandemic world, getting home delivery on groceries is more of a luxury, and the main reason they're moving away from the service is because it is too expensive. Amazon's new pricing structure could drive customers away from the company's online grocery service—unless the company is making a calculated bet on the fact that shopping habits die hard, and just enough customers have grown so used to the convenience that they'll pay dearly to maintain it.