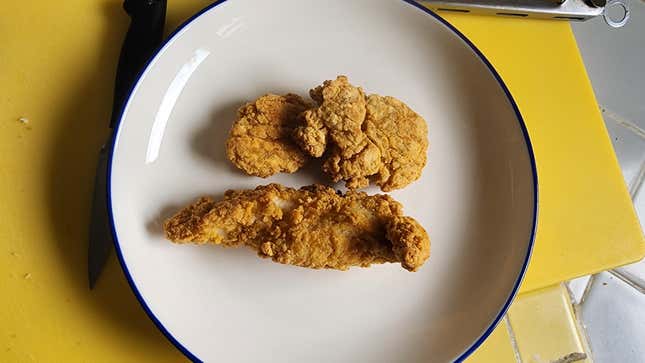 As some of you know, I had a job last year taste testing foods and writing lists for the website Sporked. I know that nobody wants to hear somebody complain about how much food they have to eat for their job, but it was an arduous year. Turns out that I don't have the best self-control in the world, and eating junk food on a near daily basis was bad for my mental and physical health. Still, I learned a lot, and amid the consistent jamming of food into my mouth, I discovered some really great grocery buys that I still keep coming back to. One of those is Target's Good & Gather brand chicken tenders.

How To Dispose Of Cooking Grease The Easy Way After Frying
I've got a pretty low bar for store-bought frozen chicken tenders. The best stuff, it should come as no surprise, is usually homemade. I interviewed a chef last year at the Yaamava´Casino in San Bernardino, California, who took the time to brine and bread his own chicken tenders for the fast casual cafeteria. Guess what? That man eventually got promoted to chef of their fine dining restaurant, Pines. Doing the little things right goes a long way, and though its tenders are definitely not homemade, Target does the little things perfectly.
The problem with most frozen chicken tenders
The issue is that most tenders are cheaply made with too much chewy, rubbery rib meat. That gives them a chicken nugget texture, which isn't bad, but when I eat chicken tenders, I want something juicy and pull-apart with a clean taste. Tenders should feel homemade, even if it's a company as big as Target making them. There should be a distinct texture in both the natural breast meat and the breading, and the latter should taste seasoned, never bland.
With many chicken tenders that you're expected to heat in the oven, the crispiness is often lacking. Tenders shouldn't be silent; they should emit a noisy crunch when you eat them. There's a lot of lifeless chicken tenders on the market. Not Good & Gather.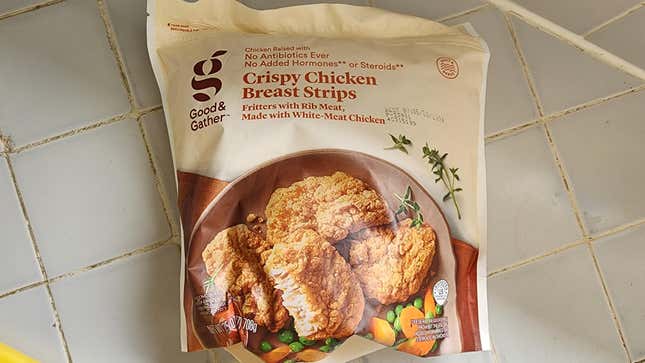 Why Target's Good & Gather chicken tenders rock
The breading on Good & Gather chicken tenders—technically in a bag labeled "Crispy Chicken Breast Strips, Fritters with Rib Meat, Made with White-Meat Chicken"—is well seasoned with salt, white pepper, and some detectable paprika. It might sound basic, but there is absolutely no need to season these tenders yourself, and that's a huge win. They're flavorful enough to enjoy all on their own. This isn't the type of fried food that needs Ranch to save it, though some Ranch here kicks ass.
The ratio of chicken to breading is perfect; there's just enough of a crunchy exterior to make you crave it. That breading, by the way, crisps up beautifully in the oven, encasing the moist chicken without growing soft or soggy. In short, it carries the vibe of awesome, unhealthy fried food.
Because each of these strips is a different size, they're imperfectly shaped, as if to suggest that, you know, a human being prepared them. All these different sizes can complicate the cooking process (one big-ass tender is going to take longer to crisp up than a smaller nugget-sized tender), but overall, I think it speaks to the quality of the product itself.
Overall, I find that Good & Gather ranks higher in the chicken tender department than other leading brands like Bell & Evans, Foster Farms, and Tyson. It might be the first Good & Gather product that actually stands out above its competition, and it's an important one, since $8.99 for 25 ounces is also a steal. There's absolutely no reason you shouldn't have a bag of these in your freezer at all times.