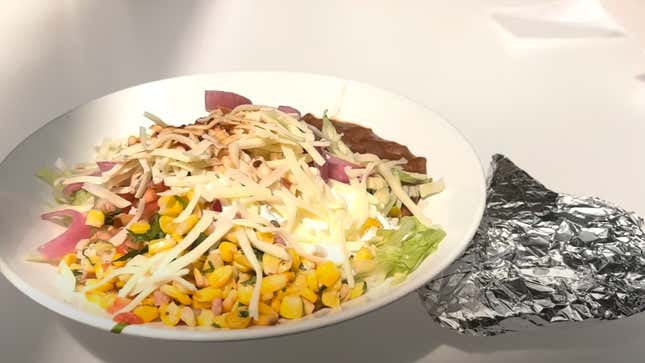 I don't remember much about my college experience, but I do remember that the campus food was woefully inconsistent. There were two dining halls that were good, two that were very bad, one that was only good for breakfast, and one that was only good for lunch—and I hardly ever ate at any of them. I went to college in New York City, where every block is teeming with takeout options. So at the end of freshman year, as soon as the expensive meal plans were no longer mandatory, nearly everyone ditched them in favor of halal carts and dollar pizza.
How To Dispose Of Cooking Grease The Easy Way After Frying
When I went to visit friends at Pitt, I saw their campus food wasn't any better: It was all the same pizza. The same cookies. The same salad bar. I left that trip assuming that every college campus in America served the same overpriced, bland mediocrity.
But apparently UMass Amherst is doing something different, because The Princeton Review ranked the school #1 on its annual list of best campus food for the seventh year in a row, based on student survey responses. So, what makes the food here stand out?
It seems like the secret ingredient at UMass Amherst is some good old TLC. Rather than sourcing only the cheapest options, the school's dining program actively supports the local economy. According to the UMass website, one-third of the program's produce comes from local farms. Program director Garett DiStefano told Western Mass News last year that the school spent $3 million on products from Massachusetts and $5 million on products from greater New England.
The dining program's directors also make a point to listen to students' feedback, as one of them noted to CBS Boston. "In every location there are surveys, so you can fill out anything from 'the napkin dispenser was empty' to 'can you sell more plant-based chicken nuggets,'" one student explained.
Additionally, UMass Amherst's dining halls feature cuisines from all over the world—kind of like EPCOT. The Asian options feature hand-rolled sushi and stir fry, and there are dishes from 28 different Latin countries. Yet in spite of this variety, even the best dining hall food can still grow tiresome.
As one UMasser told The Amherst Student (the newspaper of the nearby, unaffiliated Amherst College), "I feel like [Berkshire Dining Commons] definitely loses its appeal over time… It's a really nice rotation and all of the food is really good, but it still is a rotation. So I feel like I get used to it."
"I think you have to make sure you're switching up where you're going and what you're getting," said another student. "Because if you get into a routine, it does kind of feel stale."
Meanwhile, Tulane University, which did not rank on the list of best campus food, earned the top spot on The Princeton Review's list of schools with the most widespread consumption of hard liquor.