In Montana and Wyoming, there's a bit of legal gambling that goes on in some bars—run by the establishments themselves—in the form of a dice game called shake-a-day. That local oddity inspires the name of a tasty little IPA from Missoula, Montana's Big Sky Brewing, recently made available yearround across all of Big Sky's wide distribution footprint.

The shake-a-day game typically costs only 50 cents or a dollar to play; after handing the bartender your money, you have one chance (your daily shake) to roll five of the same number on a set of five dice. If no one wins that day, the pot grows. Average pots range from $50 to a few hundred bucks.
So that's a fun piece of booze lore you can discuss when you bring a six-pack of these cans to a party. I do recommend sharing this beer, because it's the rare IPA that should please all hoppy palates from pine-preferring traditionalists to tropical-craving hipsters. That's thanks to the combination of old-school and new-school hops: Pacific Northwest-grown Simcoe and Cascade as the former, Australian-grown Galaxy as the latter.
Shake-A-Day comes in cans but is worthy of transferring to a glass; the vibrant, translucent goldenrod pour is capped by a moussey, off-white head that's nearly picture-perfect. The aroma already teases at the pine, bright citrus and wine grape trio to come in the flavor, with a sweet Vidalia onion intro that fades into Meyer lemon, orange blossom and sauvignon blanc at the edges. There's also a robust graininess below the hop notes, indicating that hey, there's some actual malt balance to this IPA.
The sip follows through on the aroma's pine/citrus/fruit hop combo. It beings with sweet orange pulp, centers around red grapefruit, then closes with a cool pine flavor just short of spruce. A thread of Galaxy hops' tropical influence reads as papaya skin, contributing a fruity intrigue to the citrus-dominant sip. A sturdy malt backbone carries the hops' weight but doesn't distract, and helps counter the hops' firm bitterness. At the swallow, fine carbonation scrubs the palate clean, inviting another drink.
G/O Media may get a commission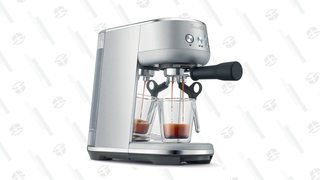 20% off
Breville Bambino Espresso Machine
You don't have to be able to rattle off those tasting notes, though, when you're cracking Shake-A-Day at a party. Just tell any beer nerd folks present that it's clean enough to satisfy West Coast IPA drinkers but with enough Aussie hops to please fans of trendy, tropical IPAs. This beer's become a regular in my fridge, in part because I know that no matter what type of IPA fan stops by, I'm not taking a gamble serving it.