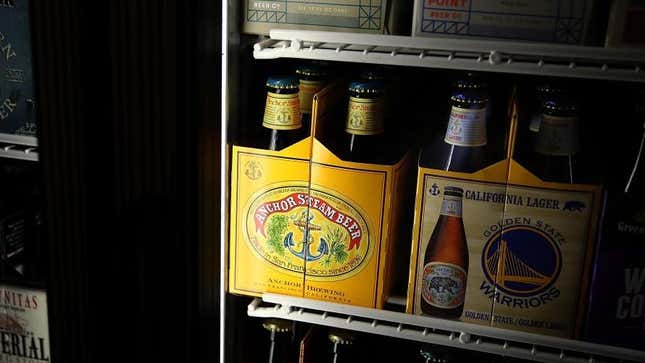 There's some stunning news emerging in the craft brewing space right now. San Francisco–based Anchor Brewing Company, founded in 1896, has announced that it's shutting down after 127 years in business. The company will completely cease production and liquidate all of its assets. I speak for virtually the entire beer-drinking world when I say, what a bummer.

How To Dispose Of Cooking Grease The Easy Way After Frying
What is Anchor Brewing?
Anchor was known for a lot of popular beer varieties, chiefly Anchor Steam (a modern craft-brewed lager), and for many people—myself included—this beer served as an introduction to not only the San Francisco brewery itself, but craft beer as a concept. I am by no means an aficionado; I enjoy a beer now and again. But Anchor Steam was the first true craft beer I'd ever had, and decades ago, countless others could have said the same.
That first sip introduced me to brews that weren't the likes of Budweiser, Miller High Life, or Coors Light—it opened up a whole new world of appreciation for a beverage I hadn't thought about much before. I was an enormous fan of the stout, which was the first of its type I ever tasted outside of Guinness, and its spiced Christmas ale always felt synonymous with the holiday season.
Why is Anchor Brewing closing?
VinePair reports that Anchor's closure is the culmination of a lot of complicated issues. The press release announcing the closure states that "the impacts of the pandemic, inflation, especially in San Francisco, and a highly competitive market left the company with no option but to make this sad decision to cease operations."
But that isn't the entire story. Anchor was owned by Sapporo USA, which purchased the brewery back in 2017. VinePair notes that ownership relations were fraught with problems, including friction between the corporation and its union workers and delays of critical plant maintenance.
Anchor's rebranding in 2021 also put off a lot of customers. The former logo had an old-timey, hand-drawn spirit to it, while the updated one featured a sleek minimalism that seemed to betray the brewery's longstanding history as a craft product.
There had been rumors swirling that the brewery would soon be sold to another party, but in the end, it didn't happen. Anchor Brewing's assets will be picked down to the bones, and it will be up to the rest of the nation's craft breweries to uphold the legacy of this industry pioneer.