Holiday beers needn't taste like months-old bread pudding or licking a Christmas tree. Traditionally, these year-end releases were boozy "winter warmers" loaded with nutmeg and clove and every other spice cabinet ingredient—but that's no longer the only option. Breweries' holiday beers these days range in style from citrusy goses to rich Scotch ales to toasty amber ales. All they have in common are festive labels and a place on your December drinking schedule.

---
ABV: 6.9 percent
The O.G. Christmas ale, Anchor Christmas turns 44 years old this year. The 2018 batch smells of elegant sherry and port wine, with plum and even leather scents underneath. The flavor is less intense than the aroma implies, with crackery malts and golden raisins only accented by deeper sherry and red wine notes. To say this beer is a classic is an understatement; it's one of the most well-loved winter beer releases, as drinkers look forward to seeing what new pine or fir tree illustration will grace its label that year. (This time around, it's a Korean Pine Tree, a variety that grow in the botanical gardens north of Anchor's home town of San Francisco).
Drink this: With shortbread cookies

---
G/O Media may get a commission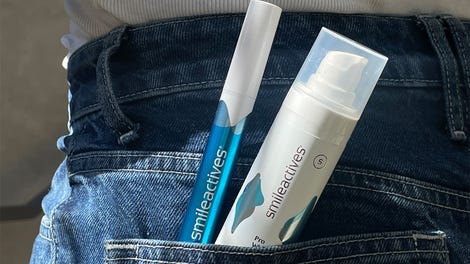 58% off
Whitening Powerhouse Pen & Gel Duo
ABV: 6.7 percent
Oregon's Deschutes has brewed Jubelale annually since 1988, making this beautiful ruby-hued beer another perennial favorite. The recipe has changed hardly at all since that original batch, so each year it can be counted on to offer the same nose of raisin bread, Tootsie Rolls, and cinnamon buns, with a silky sip that layers dark cherry cordial and tons of bittersweet baker's chocolate across the tongue. It offers with a big, roasty conclusion that leaves lingering flavors of toasted hazelnut shell on the palate.
Drink this: If you want an after-dinner beer without too much sweetness
---
ABV: 6.5 percent
Fistmas is one of the few beers on this list that doesn't require a crackling fireplace or wingback leather chair to feel appropriate. The red ale spiced with ginger and orange peel is a brighter alternative to some of the richer, more contemplative offerings on winter shelves. It emits aromas of sprucey hops and pumpernickel bread, with a flavor that balances the malts' chewy brioche and light toffee with some resinous, woody hop bitterness. The ginger and orange are detectable, but happy to play a supporting role to the red ale's primary flavors. The overall beer is rustic and warm without any sticky sweetness.
Drink this: If you're a fan of piney IPAs
---
ABV: 7.5 percent
The only beef I have with this beer is that it's called Bell's Christmas and not Christmas Bells, but otherwise, it's one of my favorite Midwest winter traditions. No spices, no fruit, no crazy barrel-aging—this beer is just a supremely constructed Scotch ale that concentrates on rich malt flavors and not much else. Its dark brown sugar, toffee, and molasses aroma suggests festive spices but then restrains itself before it becomes a liquid gingerbread house. Flavors of soft challah bread, raisin, and turbinado sugar dominate the sip, which wraps up clean, never cloying, with deftly hidden alcohol. My highest praise: This is a holiday beer you'd want to drink year-round.
Drink this: If you think you hate holiday beers
---
ABV: 5.4 percent
This annual release boasts one of my favorite labels of the bunch. The beer inside will be a bit of a surprise if you've never had it before: It's a dunkelweizen (basically an amped-up wheat beer), brewed with peaches and pecans. The nuts don't shine through much, but the peaches dominate both aroma and flavor. Combined with the caramel malt base, they give an impression of French toast or peach pie on the tongue, with a little lingering vanilla around the edges. This beer isn't for everyone, but if you have fruit beer fans in the house, they'll dig it.
Drink this: If you like sweeter fruit beers
---
ABV: 13.9 percent
Maybe none of the other beers on this list have enough… oomph for your tastes. In that case, you'll want to open Boulevard's new Plaid Habit, a limited-release beer from the Kansas City brewery's Smokestack Series. Prepare yourself for a nap after you dive into this Canadian whiskey barrel-aged imperial brown ale, whose cherry cordial, Red Vines, and Dutch cocoa aroma are lacquered in a huge vanilla-and-oak whiskey sheen. Flavors deliver more of the same, with caramel and dark fig notes linking up to give a rum-like sweetness to the sip. I'd recommend sharing this bottle with a friend, or three.
Drink this: If you wish you were drinking whiskey
---
ABV: 4.3 percent
It's neat to see brewers apply holiday flavors—in this case, cranberry and orange zest—to a beer style you don't often see in the winter months. Enter: this holiday gose, a light, bright, barely tart wheat beer with a beautiful rose hue from the fruit addition. The cranberry's sweet-tart nature melds nicely with this style's inherent lactic tartness, with some candied orange and an a light, almost cornlike sweetness cushioning the twang. It's not too tart or salty (as this style can sometimes go), instead leaving your palate refreshed and eager for another sip.
Drink this: With rich, roasted meats

---
ABV: 5.6 percent
Though the label tells you this bock is brewed with cinnamon, orange, and ginger, don't let those spices scare you off. The smooth, biscuitlike malts at the beer's base more than carry the sweet orange, pink peppercorn, candied ginger, and light brown sugar flavors that come from these additions, finishing with a clean close to the sip. One of the easiest-drinking beers on this list, Winter Lager would be a welcome six-pack option if you're headed to a party full of new friends whose beer preferences you don't know.
Drink this: If you like Blue Moon or other citrus beers