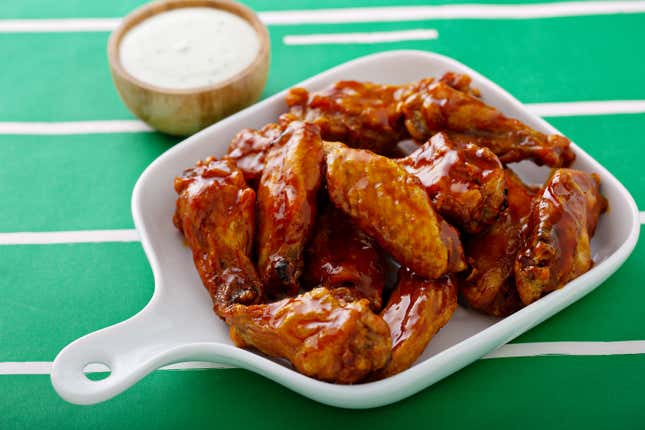 Even if football isn't your thing, there are plenty of other reasons to tune into the big game on Sunday: Super Bowl LVII airs February 12 with a highly-anticipated halftime show from Rihanna and a smattering of commercials sure to entertain, but also some great discounts on food. You'll be hard pressed to find a brand, food or not, that isn't running some sort of promotion, but we've rounded up the best freebies and deals to hit our inboxes:
Buffalo Wild Wings: This is a specific wing deal that actually requires you to have at least some focus on the actual game. If the Kansas City Chiefs and the Philadelphia Eagles take things into overtime on Sunday, the chicken wing chain is offering one free order of six boneless or traditional wings for "everyone in America." The catch here is that you can only redeem the offer Monday, February 27 between 4 to 7 p.m. local time. Highly specific, but free wings are free wings.
Dave & Buster's: Super Bowl 2023 is the first year since 1989 that beer brands like Miller Light and Coors Light can advertise during the game. Dave & Busters is offering $3 pints of Miller Lite, Bud Light, Michelob Ultra, and Coors Light so you can enjoy the brew and take in their new ads.
Frank's Red Hots & DoorDash: Another chance to snag free wings comes from a team-up deal from Frank's Red Hots, DoorDash, and TGI Friday's. You can get a free 12-count order of traditional or boneless wings if you place a $15 or more order at TGI Friday's using DoorDash. You can take advantage of this combo deal now through Sunday.
DoorDash & Subway: The delivery service is also running a deal with Subway. On the day of the Super Bowl, any Subway order of over $25 placed through DoorDash will earn you a free footlong sub.
7-Eleven: Stock up on snacks through the convenience store chain's app and you'll automatically get a free large pizza. You have to order through the 7NOW delivery app and the deal is only valid this Super Bowl Sunday, per a press release from the brand.
Grubhub & Taco Bell: Taco Bell is offering a free Bell Breakfast Box on any order of $15 or more made with Grubhub on February 13. The Bell Breakfast Box includes a Grande Toasted Breakfast Burrito with sausage, two Cinnabon Delights, hash brown, and a choice of a coffee or medium fountain drink.
How To Dispose Of Cooking Grease The Easy Way After Frying
Whatever food you or drinks you choose to enjoy on Sunday, we hope it's a deal. And hopefully your post-game recovery is just as delicious.