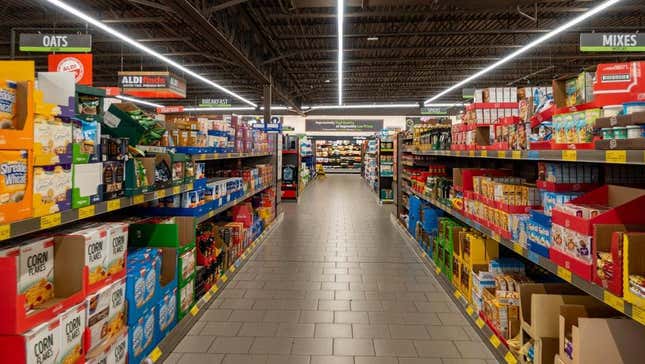 ALDI, the beloved grocery chain praised by many for keeping its prices low even when grocery inflation weighs heavily upon us, is being hit with a class action lawsuit that could lead to a $10 million payout, Newsweek reports.
How To Dispose Of Cooking Grease The Easy Way After Frying
A court filing from May 30 in the U.S. District Court of Central California alleges that ALDI labeled its Millville Fruit & Grain cereal bars as being "naturally flavored" when they do, in fact, contain an unnatural flavoring ingredient. This, the filing claims, is intentionally deceptive marketing.
The specific ingredient at the core of the lawsuit is a synthetic flavoring agent called DL malic acid. Although ALDI does not list product ingredients on its website, the bars are also available for purchase on Amazon (seen here) with the ingredients listed in the description, and malic acid is one of them. Here's an important distinction: Malic acid can be produced naturally, whereas DL malic acid is synthetically produced.
The plaintiff in the filing, Deana Lozano, states that the product claims to have "no artificial flavors" but third-party laboratory tests found that DL malic acid is what is being used in the cereal bars. The lawsuit also notes that although malic acid can be produced naturally, it "is extremely expensive to formulate in large quantities and is almost never used in mass-produced food products." By using the "naturally flavored" label, ALDI, the lawsuit claims, "deceived consumers regarding the flavoring in the products... for the purpose of enriching itself and it in fact enriched itself by doing so."
The lawsuit posits that there is high demand among consumers for products made from natural ingredients, which are perceived as being overall healthier than products containing artificial ingredients, a fact that the plaintiff claims motivated ALDI to misrepresent the cereal bars.
In recent years and especially during the pandemic, there has been an increased demand from consumers for natural products and ingredients, Food Dive reported in 2020. A 2019 survey from LEK Consulting, which the ALDI lawsuit cites, found that more than 60% of shoppers look for products labeled with terms such as "no artificial ingredients," "no preservatives," and "all natural."
Newsweek reports that the lawsuit seeks $9,999,000 in damages on behalf of all California customers who bought the cereal bars over the past four years and demands a trial by jury.