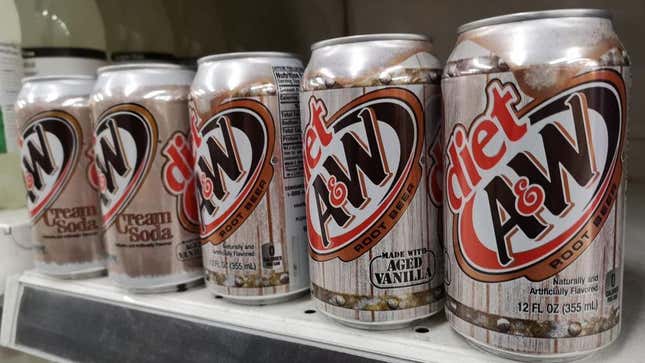 In yet another case of products not living up to their labels, A&W Root Beer and Cream Sodas, a brand of canned soft drinks owned by Keurig Dr Pepper, will soon have to shell out $15 million because of a lack of "aged vanilla" in the drinks, Today reports.
How To Dispose Of Cooking Grease The Easy Way After Frying
The lawsuit was originally filed back in August of 2020 in the U.S. District Court in Eastern New York, and it alleges that A&W Concentrate Co. misled consumers by using the label "Made With Aged Vanilla" on some of its products when the drinks do not in fact contain that ingredient.
"The vanilla flavor comes predominantly – if not exclusively – from an artificial, synthetic ingredient called ethyl vanillin," the lawsuit reads in part.
In a survey of 411 consumers conducted in March 2020, the lawsuit notes, around 89% said the label led them to believe that the product was vanilla flavored. Those consumers also said they took the label to mean that the vanilla flavor came exclusively, if not predominantly, from the natural vanilla, not artificial sources. Based on all of this, a judge has preliminarily approved a settlement, which means Keurig Dr Pepper will have to compensate consumers who purchased the sodas potentially based on misleading claims.
How to claim money in the A&W settlement
A $15 million settlement was preliminarily approved, yet for those who purchased an A&W Root Beer or Cream Soda between February 7, 2016 and June 2, 2023, the payout may vary.
Compensation is intended for consumers in the U.S. who purchased one or more A&W Root Beer or Cream Soda products within that time period whose label(s) included the phrase "Made With Aged Vanilla." Proof of purchase is not required to claim money from the settlement; a valid claim submission will yield you a minimum payment of $5.50.
Those who do have a receipt for their purchase will get 50 cents per unit up to 39 units on top of the minimum payment of $5.50. This means the maximum possible payout for one person is $25 (and that's only likely to happen if the consumer has kept meticulous records for the past seven years).
Claims can be filed on RootBeerAndCreamSodaSettlement.com, but as of this publication, the site isn't yet live.
Are A&W restaurants involved in the root beer lawsuit?
Today reached out to A&W Restaurants, a fast food chain that carries the same name and branding as the A&W soft drinks, but the restaurant is in fact a separate company from A&W Concentrate Company, which produces the root beer and cream soda. A representative for the restaurants clarified that A&W Restaurants, Inc. is a privately owned company that operates separately from Keurig Dr Pepper.
"The Root Beer served in our restaurants is made fresh on site and has a slightly different formulation than what is served in retail bottles and cans," the representative told Today via email. "We do not make any claims regarding vanilla in our restaurant marketing."
Natural aged vanilla might be missing from your canned soda but you might be able to get $5 from this court settlement and a better quality drink from the restaurant instead.