Seven years ago, I starting baking yule logs around Christmas time. I enlisted the help of my friend and baking soulmate Cristin. It's become our annual tradition, a chance for us to spend time together, flex our baking muscles and eat some really good cake.

A yule log, also known as a buche de noel, is a French holiday treat featuring a rolled sponge cake, frosted to resemble a freshly cut log, and topped with whimsical meringue mushrooms. Why should you make one? Rather than multiple instances of ho-hum cookie baking, how about one fabulous show-stopper that feeds a dozen people?

Many of my yule log cakes have been beautiful, but only two have been downright delicious. The first was tiramisu-inspired, with dark chocolate ganache, yellow cake brushed with espresso, and whipped mascarpone filling.

The second was this year's cake: Dorie Greenspan's gingerbread yule log recipe, which can be found in her excellent cookbook Baking Chez Moi. It featured a warmly spiced sponge, cream cheese filling scattered with homemade praline bits, and a marshmallow frosting. It's a challenge for sure, which is perhaps why I took it on in the first place. I like the meticulous mise en place and tedious instructions required to make a yule log. It requires concentration. This baking tradition began pre-Instagram for me, so I can confidently say I did it for the pure satisfaction of having completed such an undertaking. And because there would be fancy cake to eat at the end.

These last seven years have yielded yule log lessons aplenty. And now, I share those with you, my tips for cake success:

G/O Media may get a commission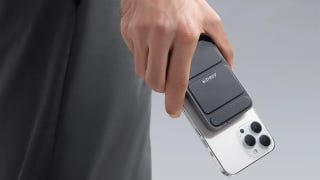 15% off
15% off Anker Top Ten Products
Take charge
Treat yourself to a portable power bank, a magnetic wireless battery for iPhones, or even a solar generator. There is a reason these are in the top ten. For instance, the Anker 747 Power Bank is a 4-in-1 charger utilizing USB-A and USB-C to be capable of charging up to four devices at once. Great to take with you when traveling and in need of keeping your phone, laptop, and even Nintendo Switch powered on.
---
1. Buy a candy-thermometer
Get yourself a nice, fresh, clean one. If you have a thermometer you used for deep-frying fish, you'd better scrub the bejesus out of it with hot soapy water before using it for cake. You'll need it for the meringue mushrooms' sugar syrup, for tempering chocolate, and possibly for your sponge cake.

2. Respect the egg
Eggs are the tiny bosses in Yule Log Town, and treating the egg whites right is key to mastering temperamental meringue and finicky sponge cake. Do exactly what the instructions say in your chosen recipe, and keep your bowls, beaters and mixer attachments surgical-level clean. The slightest bit of grease can deflate your egg whites.

3. Make your meringue mushrooms the night before
They need to spend a few hours drying in a low-heat oven. Store them in a container, separated by parchment layers. Keeping them dry is a high priority—otherwise they turn into sticky marshmallows. If they do morph into sticky marshmallows despite your best efforts, they are still delicious and you should still include them on your cake as "tree fungus" or some such soggy forest snack.

4. Light sponge for beautiful swirls
For the most aesthetically gorgeous rolled-cake swirl, chose a light sponge (yellow or white cake) and brush it lightly with a dark sweetened syrup such as espresso, or something boozy like dark rum. Offset it with a chocolate filling, or a bright white buttercream.

5. Make sure the filling is stiff enough
In 2017, I made caramel buttercream and it was too soft, squishing out the sides and totally harshing my swirl buzz. I'll stick to cream cheese- or mascarpone-based fillings from now on.

6. You can't rush it
You must set aside a full afternoon to make a yule log cake. From start to finish, I'd bank on 4-6 hours to make it, which includes chilling. Please follow the chilling and resting instructions in your chosen recipe; they are key to not only the proper rolling of the sponge, but also to the setting of the filing, and, ultimately, the ability to slice impressively swirled slices.
7. Enjoy the creative license
I'm a yule log magpie. I never want to make the same cake twice, both from a flavor and design perspective. So I mix and match recipes, based on the design in my head. Some years I want a "could be mistaken for an actual log" look, and some years I want a more "sugar plum forest" look, such as my birch log from 2016, which was frosted with white Italian buttercream and had a tiny mouse on it (lower-right quadrant in photo below). Even a beginner needn't stick to just one recipe: You'll just need to select four elements you like—a sponge, a filling, a frosting, and a recipe for basic meringue mushrooms. My go-to meringue mushroom recipe comes from Martha Stewart.
8. Tone it down, especially if you're a newbie
Sometimes I accidentally make tacky mushrooms. I choose brash colors, thinking they'll look like they were plucked out of a fantasy forest and tumbled onto the cake. But put down the red dye No. 40. Trust me. Pale colors are best, even meringue tinted only with vanilla extract looks adorable when piped into mushroom caps and stems. Remember, this is a French dessert. The French are not tacky (minus the mimes) and your yule log shouldn't be, either.
9. Choose your non-edible add-ons carefully
I always wreath my cake with snipped pine twigs from my Christmas tree, dusted with powdered sugar. No one would mistake these for something to eat, unless you are a moose. Ornamental critters on the cake are fine, though they will be irrevocably covered in frosting. One year, I used gingerbread man cake decorations—which seemed cute, but tasted like garbage and lent a World War Z feel to an otherwise pleasant sylvan scene (you know, that infamous scene where a wave of zombies surmounts that huge wall?). Luckily the cake had already been half-devoured when this sugary horde mounted their attack.
---
If you follow instructions carefully and learn the techniques, the creative possibilities are endless. Who knows what next year's cake will be? A dignified Candy Land-theme? A chocolate cake with a hot cocoa peppermint swirl? Or a light coconut sponge with lime curd and toasted meringue? I'm already excited thinking about it.