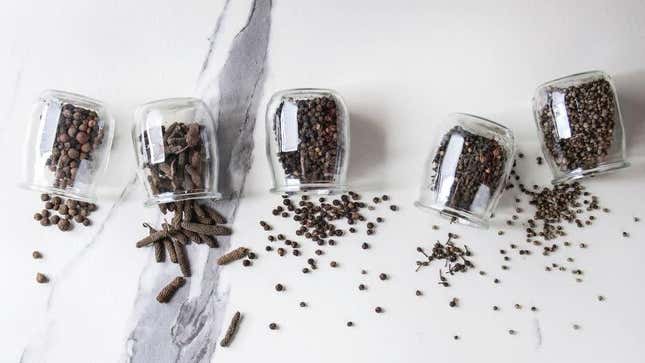 Today in Big Yikes: Two major spice companies have issued recalls amid concerns their products may be tainted with salmonella.
All the Best Finds at the Sweets & Snacks Expo
Red Monkey Foods, Inc. issued the first recall, which is limited to parsley products sold in glass bottles. The other recall, issued by Sauer Brands, Inc., is a bit more concerning. It's linked to everyday spices including cinnamon, garlic, paprika, chives, black pepper, and many other potentially tainted products.
Here's the question: Since the Sauer recall may very well wipe out your entire spice cabinet, how can you tell if you need to trash your beloved seasonings? Start by checking to see if your state was affected by the recall. According to the bulletin, tainted products made their way to the following states: Alaska, Alabama, Arizona, California, Colorado, Delaware, Florida, Georgia, Illinois, Indiana, Kansas, Kentucky, Louisiana, Maryland, Michigan, Missouri, North Carolina, New Jersey, New Mexico, Nevada, New York, Ohio, Oklahoma, Pennsylvania, South Carolina, Tennessee, Texas, Utah, Virginia, Washington, and Wisconsin.
So, hmm. Okay.
If you live in one of the tragic municipalities (and the chances are good that you do, because that's a long-ass list), you can also check the lot code on your spices if they're in their original packaging. The full list of tainted lot codes is available in the recall bulletin.
To be safe, you might just want to trade out your spices—especially since a salmonella infection can cause some pretty serious symptoms in kids, the elderly, and anyone with a compromised immune system. If you need me, I'll be browsing Lenox spice village listings and quivering with desire.