In Celebrity Recipes, we tackle a favorite recipe from a beloved star, past or present.
I straight-up love Boris Karloff for a variety of reasons. His Frankenstein, which will never be equaled (thanks but no, De Niro). His perfect, also never-to-be-equaled narration and personification in my all-time favorite Christmas special, How The Grinch Stole Christmas. And, as a old-time radio buff, every Halloween I enjoy his vocalizations on some of the scariest radio stories I've ever heard on programs like Inner Sanctum, like "Cat Wife" and "Valse Trieste."

So I was thrilled last month when I posted this column for the first time, featuring Katharine Hepburn's brownies, and a commenter suggested Boris Karloff's guacamole recipe. Like fellow horror movie legend Vincent Price, Karloff was apparently also something of a an entertaining gourmet (Price is coming up soon in this column, swear). And like Price, maybe all the horror Karloff was surrounded with every day made his downtime a bit lighter. (He also, I found out while researching this column, was married five times.)
You can easily finding this recipe by Googling "Boris Karloff" and "guacamole," but I'm going to go ahead and post this tweet because it's from Ally McBeal and Veep star Peter MacNicol, because why not:
G/O Media may get a commission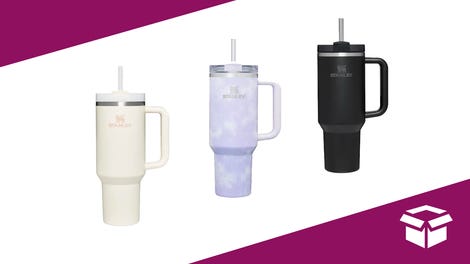 Up to 45% off
Stanley Cup Sale
Boris Karloff's guacamole recipe, are you kidding me? He loved Mexican food? That sounds like a party I would have given my eyeteeth to be at. Can't you just picture Boris Karloff welcoming you into his Hollywood manse with that thrilling, chilling baritone, offering you a margarita and directing you to the guacamole on the table, alongside some enchiladas and tostadas?
I long to be there. But since I never will be, I decided to go ahead and spread the word about Boris Karloff's guacamole recipe, dammit. It seemed like an appropriate match for the man who personified Frankenstein and the Grinch; it is green, after all. Plus, god bless him, Karloff's recipe has booze in it, and how many guacamole recipes can you say that about?
Unfortunately, I discovered that there is quite a disconnect between mid-century guacamole and 2018 guacamole. The original recipe serves as kind of intro to guacamole, as the then-exotic dish has to be described to the lay reader: "an avocado sauce that [Karloff] makes in a spicy, tantalizing fashion. Guacamole is served on a bed of lettuce as a salad or with fried tortilla wedges [which we now know as "chips"] as an appetizer or simply as a sauce." Sorry, whatever local paper this recipe came from, but we can't agree with the "spicy tantalizing fashion" of Karloff's recipe. Mainly because this version comes off as extremely mild from today's guacamole standards.
Because I'm a true fan, I diligently put together the original recipe ingredients, even down to the cooking sherry that I somehow found in the back of a kitchen cupboard.
I mixed it all and was immediately disappointed. Where was the tantalizing spiciness I'd been promised? What I was left with was really more like a bland base for an actual guacamole. Using what ingredients I had, I added the rest of the lemon, another tomato, the whole can of chiles, and a ton more cayenne. I still could have probably added some more salt. Still, most of my tasters considered it pretty mild, although some noted that the guac had a nice, late-arriving kick to it, thanks to the cayenne and peppers. But I would definitely add some ingredients we now identify more readily with guac, like lime and cilantro. And more salt.
I like to think that Karloff's guac was a big hit at his pool parties back in the day though. Possibly with some fun straw baskets and brightly striped tablecloths, with guests like Peter Lorre and Elsa Lanchester hanging out in the background. So I'll probably remain loyal to my version of his original recipe, even if I had to Frankenstein it up a little.
---
Boris Karloff's Doctored-up Guacamole
2 avocados

1 medium tomato, chopped fine

1/2 cup onion, minced

1 4.5 oz. can chopped canned green chiles

Juice of one lime, more to taste
1 Tbsp. sherry
1 tsp. cumin
Cayenne, salt, and pepper to taste

Cilantro for garnish

Peel and mash avocados. Add tomatoes, onions, and chiles and mix. Add lemon and lime juice, sherry, and spices to taste, and top with cilantro. Serve with fried tortilla triangles, a.k.a. "chips."