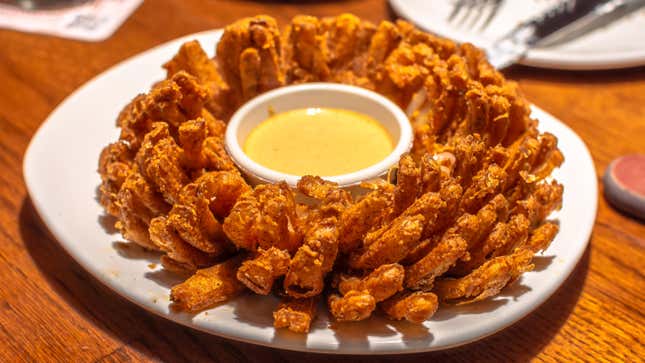 Battered and fried onions are spectacular in any form—from onion chips, strings, to little frizzles—but the most superior format is one that's whole, sliced into little flower-like petals and deep fried in its entirety. Yes, the Bloomin' Onion from Outback Steakhouse is one of the greatest food innovations ever created, and I will not be taking further questions at this time. And for one fleeting day this month, you'll be able to get one for free.
How To Dispose Of Cooking Grease The Easy Way After Frying
Where did the Bloomin' Onion come from?
We wrote about the Bloomin' Onion's origins a few years back. One of the founders of Outback Steakhouse, Tim Gannon, is widely credited as being the one who invented it. MEL Magazine (RIP) reported that the original idea was actually from a man named Jeff Glowski, who was a friend of Gannon's.
Glowski was a chef at a restaurant called Russell's Marina Grill (which is still open today) and had created the Bloomin' Onion prototype for a contest in 1985. Russell's still has the onion on its menu to this day, just under the name "Onion Mum."
The concept traveled with Glowski all the way to Australia, and Tim Gannon eventually adapted the idea for Outback's menu by tweaking the recipe to his liking. So while Gannon created what is now known as the Bloomin' Onion today, its original form came from Glowski.
How to get Outback Steamhouse's Bloomin' Onion for free
Outback is running a one-day promotion on January 31 called "No Rules Day." A press release sent to The Takeout says that all you have to do is mention "No Rules Day" to your server and you'll be able to get a free appetizer or a dessert on the house.
"Outback has always been rooted in 'Spirited Aussie Fun' and this year we are reemphasizing our commitment to the Outback Steakhouse motto, No Rules, Just Right. There will be not only exciting promotions and menu innovation that reflect our Aussie attitude, but our people are ready to make each experience special for our guests," says senior vice president Danielle Vona, of Bloomin' Brands, parent company of Outback.

While the promotion applies to all the appetizers, I don't know why on earth you'd want to order anything other than a Bloomin' Onion—which goes for $10 at my local Outback and could practically be a meal by itself.
Of course, if you're more in the mood for sweets, you can get the questionably-named "Chocolate Thunder From Down Under," which is a pecan brownie topped with ice cream, chocolate sauce, chocolate shavings, and whipped cream. But if I were you, I'd stick to the Bloomin' Onion... it's the real reason why you stop by Outback.
The one catch is that it's dine-in only, so no takeout Bloomin' Onions. But everyone knows they're at their peak blossom when they're straight out of the fryer, anyway.