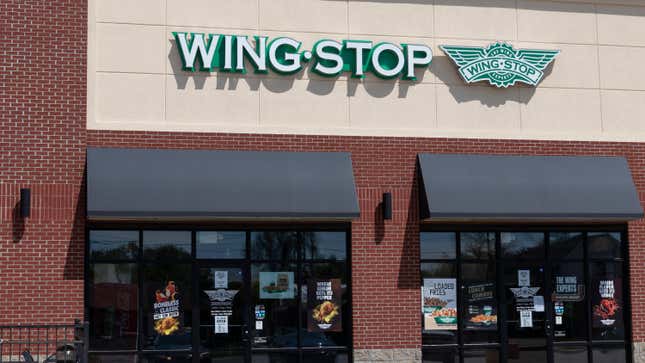 In many ways, 2022 was Wingstop's year. The popular chicken wing chain released its chicken sandwich in August—or rather, twelve chicken sandwiches, since you can order them doused with each of the brand's dozen signature sauces—and quickly sold out of its supply. But it wasn't just the success of the sandwich that helped Wingstop weather the impacts of inflation. As the company explained in a recent earnings call, another factor gave the brand a serious boost.
Per a press release from Wingstop, the chicken wing chain experienced an 8.7% increase in same-store sales in the fourth quarter of 2022 compared to the same time in 2021. Plus, the company was able to open 228 net new units last year, which translates to a 13.2% growth rate for 2022. At the end of 2022, Wingstop had 1,678 restaurants open globally and plans to open 240 more in 2023.
That growth is not just within the U.S., either. Wingstop also opened restaurants in Canada and South Korea, where it hopes to have as much success as it has had in its U.K. market. (Would you believe the U.K. has 28 Wingstop locations?)
Unlike many other fast food chains in 2022, Wingstop was able to avoid increasing its menu prices to combat inflation. McDonald's raised prices by 10% last year, and Wendy's overall menu price reportedly increased by as much as 35% from 2021 to 2022. What gave Wingstop a leg (or thigh) up on the competition? Chicken wing deflation.
Yes, in late summer 2022, chicken wing prices were at the lowest they'd been in years, and poultry prices were lower than usual across the board. Although the reason for that price drop was due to an overall decrease in demand for wings post-pandemic, Wingstop was still able to capitalize on the price break, thereby keeping its menu prices consistent for customers.
Before chicken wing deflation hit, Wingstop considered co-investing in a poultry production plant or even taking on its own proprietary poultry facility, QSR Magazine reported in May 2022. This move would have given the brand more control over its supply chain. However, Wingstop has since shifted away from this strategy.
"We benefited from meaningful deflation in 2022, so we did not have to take price in fact in the fourth quarter," said Michael Skipworth, Wingstop CEO and president on the earnings call.
Thanks to the wing deflation, the chain was able to put more money into its advertising and build brand awareness. Wingstop's advertising fund grew by 40% in 2022 and the company plans to continue advertising in NFL and NBA games. Maybe next year a Wingstop commercial will win the Super Bowl?